We need to talk about Kelly Loeffler
The Atlanta Dream co-owner is the next GOP Senator in Georgia.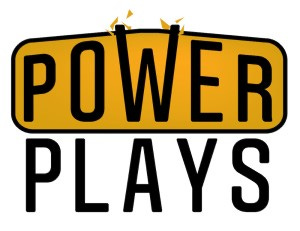 Hi, everyone. Welcome to Power Plays, your home for a no-bullshit look at sexism in sports. This newsletter will hit your inbox every Monday, Wednesday, and Friday.
This is an independent venture, and you can support it by signing up. Every day, people in positions of power in the sports media industry let me know that they don't think there's a full-time space for this work. Help me prove them wrong.
Today, we're going to talk about Atlanta Dream co-owner Kelly Loeffler, who was just appointed as the next Republican Senator in Georgia. Which … yeah.
But first, some housekeeping.
Thank you all so much for the enthusiastic support of the Power Plays Gift Guide. Since it was a long one, it was cut off in some of your email inboxes. You can view the entire thing if you click on this hyperlink right now, and you can use that same link to post it to facebook and twitter and pinterest, and whatever social media or internet forum you'd like.
Another note: In the initial email, I mixed up the hyperlink for the SheIs Gift Guide. My apologies. You can find that right here.
Alright. Let's do this.

Now we know who Kelly Loeffler really is
I'm going to be completely honest with you all. I have been an avid follower of the WNBA the past few years, but about a month ago, if you had asked me to name the owners of the Atlanta Dream, I would have drawn a blank.
Well, in this case, ignorance really was bliss.
It turns out that since 2011, the Dream have been owned by Dream Too LLC, which is composed of two Atlanta businesswomen: Mary Brock and Kelly Loeffler.
Today we're going to be focused on the latter. That's because last week, Gov. Brian Kemp (R-GA) selected Loeffler to succeed incumbent Sen. Johnny Isakson (R-GA) in the United States Congress. (Isakson announced his resignation due to health problems, which gave Kemp the right to appoint his successor. There will be a special election for the seat in 2020.) Loeffler will assume her position in Washington, D.C. on January 3, 2020.
Yes, that's right. A WNBA owner is now a GOP Senator.
Why? Well, to quote this graphic on her Twitter account, "This is the fight of our generation. And it's why I'm here." (That slogan needs work, Senator!)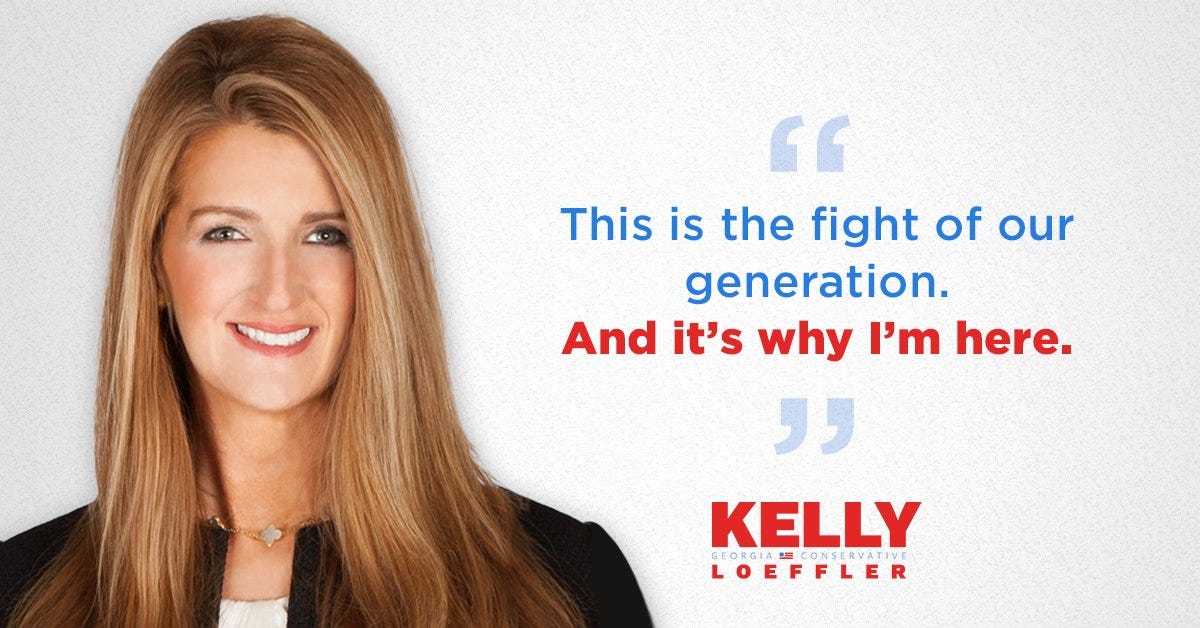 Loeffler had no political experience before this. She proudly boasts of being a "political outsider," though over the years, she and her husband have donated over $3 million to political committees — mostly to Republican causes, but not exclusively.
Her background is mainly in finance and bitcoin, and the Atlanta Journal Constitution has referred to her as a "deep-pocketed marketing whiz."
When word first got out that Kemp was going to appoint Loeffler, it was widely reported as a "rebuke to Trump." While not much was known about Loeffler's personal political views, she was portrayed to be a bit more on the moderate side — in part because she's a woman who owns a women's sports team that plays in a league that has publicly supported Planned Parenthood. (I'm not going to link to them, but right-wing sites literally described her as the, "Georgia Senate pick with ties to abortion industry.")
But Loeffler has spent the last week reinforcing her Trumpian credentials to everyone who will listen. She is, as she puts it, pro-2nd Amendment, pro-military, pro-wall, pro-Trump, and "strongly pro-life."
Her website, which is already gearing up for the 2020 election, is light on policy, but does reiterate her anti-abortion agenda.
"A devout Christian, Loeffler is unapologetically pro-life and backs Governor Kemp's 'heartbeat bill,' which was signed earlier this year," it reads. "She will champion life – from conception to natural death – and stand firm against the left's abortion on-demand agenda. In the Senate, Kelly will strongly support S. 160, Senator Lindsey Graham's 20 week abortion ban and proudly back President Trump's conservative judges."
Well, I'm glad that's settled!
The silence from those around the WNBA is deafening
I reached out to a variety of sources from around the WNBA about Loeffler, and for the most part, none were particularly shocked about her beliefs. It was known that she was more on the conservative side, and last year, she raised some eyebrows around the league when she attended the Women's World Cup as part of President Trump's Presidential Delegation.
But, while it's usually not hard to get people in the WNBA to go on-the-record about issues related to politics and social justice, this was a different matter.
The Dream didn't have a comment on Loeffler's Senate appointment, and neither did the WNBA. Most of the current and former players I reached out to did not respond, either. (It should be noted that it can sometimes be tough to get people to respond in the offseason, but usually it's not this tough.)
Those who did respond, asked to remain anonymous.
"It's sad to see her so openly display things that counteract the very core and mission of the WNBA," one former Dream told Power Plays through a text message. "But hey, does the person who funds the show's ideals permeate throughout? Can she believe in both? IDK."
Some players said that Loeffler wasn't typically around a lot — though apparently she was a more visible presence this past season — and pointed to the fact that progressive figures like Stacey Abrams had been welcomed to Dream games and posed for photos with players as recently as this past summer.
But, of course, that was before Loeffler had officially entered the political realm.
Dream fans have been more direct with their criticisms — which makes me think that the silence from the league's leaders can only last for so long.
"The Atlanta Dream won't get a dollar from me moving forward unless Loeffler were to part with her stake in the organization," one Dream fan told Power Plays. "Personally, it's sad that someone who should be advocating for women and the shared values of the Dream and WNBA would blindly support such a disgusting misogynist, but this is where our politics are."
Loeffler has put all WNBA players in a horrible position
It would be beyond naive to think that every single person involved in the WNBA is a bastion of progressive ideology. But over the past few years, players throughout the league have felt increasingly comfortable speaking out against everything from systemic racism and police brutality to equal pay and reproductive rights.
In May, I asked many WNBA players about the anti-abortion bills that were sweeping the nation, including the "heartbeat bill" that Loeffler now brags about supporting. Multiple players, including 2019 WNBA MVP Elena Delle Donne, were willing to speak out against them, on the record.
"It's just amazing that we're making laws about women's bodies and trying to make that decision for them," the Washington Mystics star said. "I think every person is different."
Breanna Stewart, the 2018 WNBA MVP, also shared her opposition to these bills on social media.
Going forward, I can't help but wonder how much Loeffler's newfound position in politics will impact the outspokenness of WNBA players; not necessarily superstars like Stewart and Delle Donne, who have a lot of control of their careers, but those who aren't on the MVP short-list every year.
There are only 12 teams in the WNBA. Every single roster spot is precious. If you're a Dream player right now, how could you possibly feel comfortable speaking up about any viewpoints that run counter to Loeffler's, especially knowing the increased scrutiny the team will be under from those on the right and left who are looking for reasons to criticize Loeffler? And, if you're a player who could potentially find yourself traded to the Dream or looking for a spot anywhere in free agency, how could this not change your calculus when it comes to sharing political beliefs?
Ideally, this wouldn't be a question, and the players would feel comfortable speaking up, no matter what. (After all, in theory, the owner shouldn't have that much say over roster moves.) And perhaps that's how things will develop. But right now, the silence is sending another message. Ultimately, the wealth, power, and privilege of a conservative, white woman, is putting a league full of predominantly black, outspoken WNBA players in a very precarious position.
I'm going to keep following this story. If you're interested in talking, please reach out: lindsay@powerplays.news.

From the archives: Can you even imagine?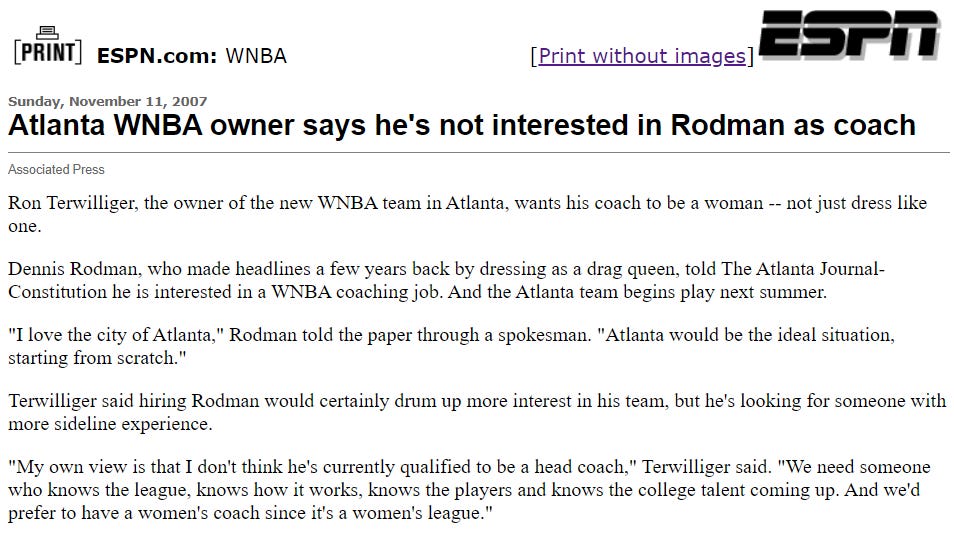 Alright, friends. That's all for today. Remember, sign up and share! I'll be back on Wednesday.