When sports start back, let the women go first
It will be a win for everyone. Trust me.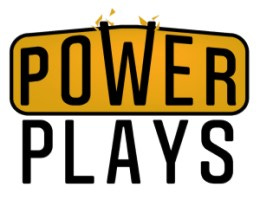 Hello, and welcome to Power Plays, a newsletter for those sick of bullshit excuses and ready to see equality for women in sports. Thanks for spending some time with me, Lindsay Gibbs, during this difficult time!
Last week was an exciting one at this little newsletter that could. We published our first official paid freelance contribution, and we had our first Power Plays Book Club discussion! ICYMI, be sure to catch up on our dispatch about sexism in sports video games, and our in-depth talk about March's book club selection, "Sum It Up."
April's Power Plays Book of the Month is "
Futbolera: A History of Women and Sports in Latin America" by Brenda Elsey and Joshua Nadel
I recommend that you use this opportunity to support local bookstores that are struggling right now because of the coronavirus. Readers have passed along links to Flyleaf Books in Chapel Hill, North Carolina; and Bookshop, an online bookstore devoted to supporting indie bookstores. And look, I know Amazon isn't the company we want to be supporting right now, but there is a Kindle edition of the book available for only $15, and that is not only cheaper than the hard-cover book, but it eliminates all concerns about delivery and safety.
If you cannot afford a copy of the book right now, I totally understand; send me an email and I will take care of you. I'm personally going to give out four copies of the book; if you'd like to also donate a copy of Futbolera to a Power Plays reader, email me at lindsay@powerplays.news. I will make sure the money gets to independent bookstores, and that a book gets sent to someone in the book club. Wins all around.
And remember: The Power Plays book club discussions and related newsletters are for paying subscribers only. Subscriptions are currently 23% off, and you can easily donate one using the button below!
Okay friends, that's enough of a preamble. Let'e do this.

Women's sports will need help after coronavirus. Thankfully, the solution is simple.
Over the weekend, Donald Trump, who is still, somehow, president of the United States, held a conference call with 13 sports commissioners and leaders. Only two of those were leaders of women's sports — Cathy Engelbert, commissioner of the WNBA, and Mike Whan, commissioner of the LPGA.
The National Women's Soccer League (NWSL), National Women's Hockey League (NWHL), and National Pro Fastpitch (NPF) were all excluded from the conversation. (Leaders from men's and women's tennis were left out as well, for some reason.)
This is a problem. Not because I want women's sports leagues to be cozying up to Trump — to be clear, there is a difference between what amounts to a policy call amidst a global pandemic and a photo op to celebrate a championship. Rather, this is yet another example of how women's sports are going to be left out of the picture when is comes time to reboot the sports world.
And this should concern everyone, because since most elite women's sports are much newer than men's sports, they're in a much more precarious position.
Over the past couple of weeks, I've spent a lot of time thinking about how to mitigate the damage the coronavirus will have on the women's sports world. Most of my concocted solutions have been radical. I've envisioned a universe full of wealth redistribution; dreamed of starting from scratch and rebuilding the sports-entertainment complex from the ground up; wished for a new world order, one where women's sports get just as much government handouts as their male counterparts.
But I keep coming back to one thing: In the pre-coronavirus world, men's sports got decades worth of head starts over women's sports. What if, in a post-coronavirus world, we reverse that order?
Don't worry, I'm not proposing decades without men's sports. I'm proposing, like, a month. A month where the billions of fans and television networks and sponsors and advertisers who are all completely starved for live sports of any kind only have the option of watching women's sports.
It's imminently feasible, almost absurdly simple, and would provided a desperately-needed boost to women's sports, which would ultimately be good for the sports world at large.
When the sports world gets the "go" signal once more, just let women lead the way.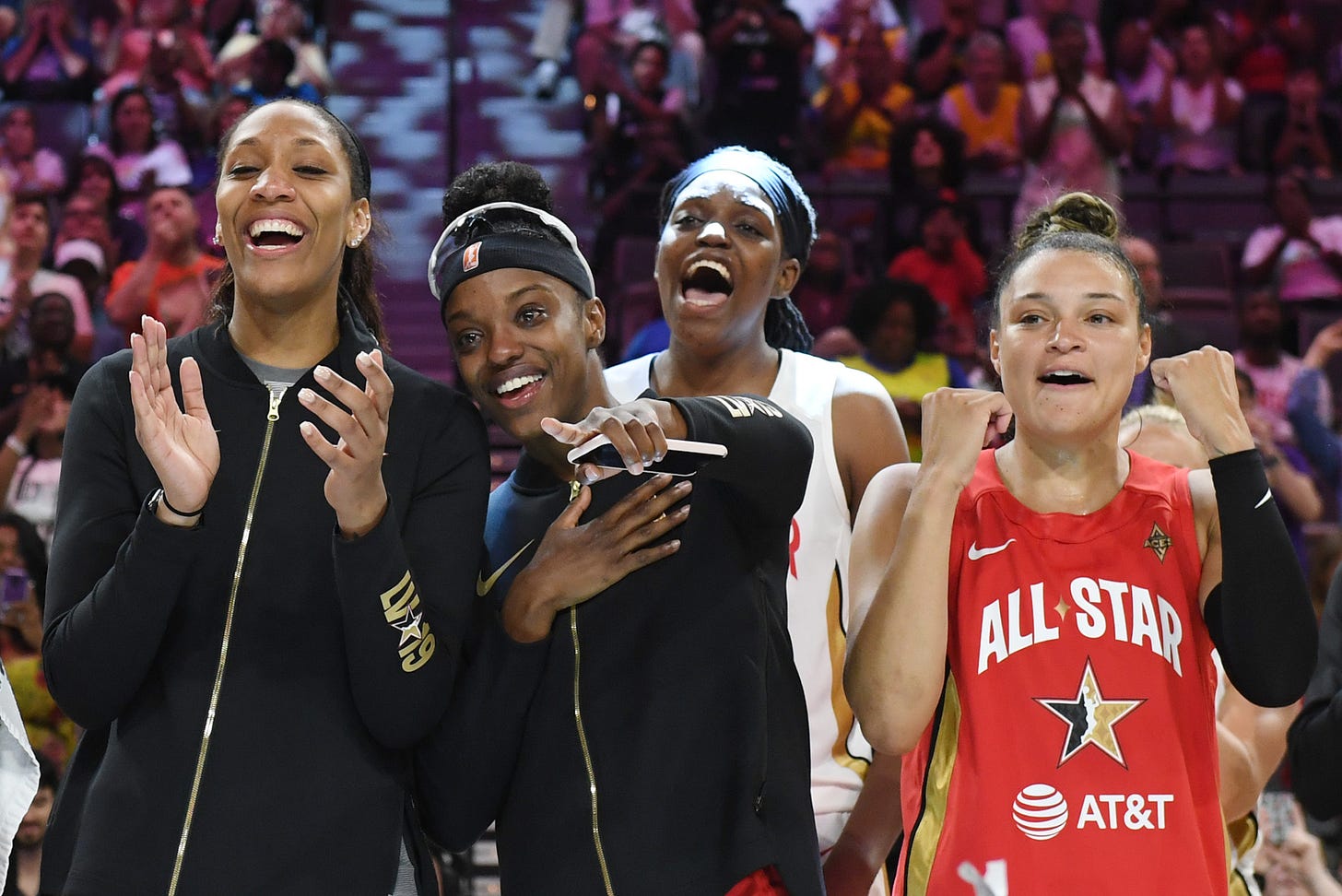 (A'ja Wilson, Diamond DeShields, Jonquel Jones, and Kayla McBride at the 2019 WNBA All-Star Game; via Getty Images)
The threat to women's sports is real
I typically rail against those who perpetuate the narrative that women's sports are in peril; it is often a tactic used by the media or Men In Charge to justify their lack of coverage or investment.
But honestly, right now, I am worried. And I'm not alone.
As Talya Minsberg wrote for the New York Times last month, "Women's leagues have always had to fight to get a fraction of the money, screen time and other resources allocated to men's leagues. At a time when the biggest and most well-funded leagues are questioning their future, what will happen to the women's leagues — and the athletes who compete in them — when the sports world re-emerges from its hiatus?"
The WNBA has postponed its regular season, which was scheduled to begin on May 15, indefinitely. The LPGA has taken steps to establish a fall/winter calendar. The NWSL is targeting a return at the end of June, a scenario which seems unlikely at the moment. These are all, obviously, the right calls for health reasons. But this year was supposed to be a power-accruing one for women's sports! Now it's all a question mark.
"I'm worried about my own teammates, you know? We had a phone call the other day, and Ali and I told everyone that if anyone's really struggling to get food or the necessities, we will totally be willing to give to whoever needs money to stay afloat," Ashlyn Harris said in the Players Tribune, in an interview with her wife, fellow USWNT and Orlando Pride star Ali Krieger.
Harris and Krieger are right to be concerned about their Pride teammates; minimum salaries in the NWSL are only $20,000.
LPGA player Alana Uriell told the O.C. Register that she's worried about making ends meet — in the LPGA, there's no such thing as a guaranteed contract; if players don't compete, they're not earning money.
"I was projected to play from February to the end of the year, and now, going three months without income, I'm thinking, 'Gosh, how am I gonna pay my rent? How am I gonna pay for Netflix or gas next month and food?' That's not usually what you think a professional athlete has to worry about, but it's a weird thing for golfers," Uriell said.
Last month, LPGA commissioner Michael What took to twitter to beg the sponsors of LPGA players to continue to pay them, even if they don't meet the required number of played events or televised appearances.
So yes, I'm concerned that female athletes are going to take such a big financial hit during this layoff that they won't be able to continue with their careers. And I'm even more concerned that there won't be any stable careers in pro women's sports for them to return to.
A lot of owners of teams in the WNBA, NWSL, NPF, and NWHL already have much smaller bank accounts than the billionaire NBA and NFL team owners. The coronavirus will almost certainly impact their wealth. What if owners decide it is not worth it to continue? Advertisers, who will be dealing with diminished budgets, could easily decide that women's sports aren't enough of a sure thing at the moment, and save all their funds for men's sports. And media outlets, which are already laying off journalists at alarming rates due to the loss of advertising dollars during this crisis, are going to have even fewer resources to devote to women's sports than they did before coronavirus.
That is hardly an equation for stability.
Starting women's sports back first will give a boost to everyone in the industry
By now, I assume I have you all sufficiently concerned that when sports return, sponsors, stadiums, leagues, television, media, and fans will so over-prioritizes getting the cash cow that is men's sports re-started as soon as humanly possible, that they will trample all over women's sports in the process. (You're welcome.)
Now, the good news: Starting women's sports back first will make sure this doesn't happen.
Sports television networks and sports journalists across the world will be in dire need of ratings and advertisers, meaning they will cover the teams and players and storylines in women's sports to the absolute best of their ability, and pull out all the stops to attract an audience. Fans who haven't watched live sports in months upon months will be so happy to cheer and analyze and gamble and engage in soccer or basketball or golf or hockey that most will happily tune into women's sports if it is their only option, especially if the media is giving the games the proper investment.
Yes, in this world, men's sports would re-start very soon after women's sports. And I would fully expect media and fans to welcome men's sports back with much fanfare, and for men's sports to quickly regain their spot on top of the sports food chain.
But by that point, hundreds of millions of people will have been introduced to women's sports that they might have never watched before. The reporters and the sponsors and the networks and fans will have established new relationships with the women's leagues and coaches and players, and unlike the Olympics, those relationships can continue after the first few weeks because the competitions will continue in the same format.
It is so simple. But it would be so effective. And it wouldn't just be charity for women's sports; it would be an investment that would benefit everyone in sports.
More than ever, the coronavirus has shown the world how interconnected we all are. Healthier women's sports leagues won't take anything away from the success of men's sports leagues, they will simply help sure up the entire ecosystem.
I'm not saying it will automatically cure everything that's wrong with women's sports. But it will make sure that women's sports don't get left in the dust. It will give them a chance. Everyone should want that. The NBA doesn't want to have to take the P.R. hit it will suffer if multiple WNBA teams go out of business. U.S. Soccer certainly doesn't want to have to shut down the NWSL right as it is trying to convince everyone how non-sexist it is. In uncertain times, sports networks should want more leagues to showcase and partner with, not fewer.
So I propose one month. One month where women's sports are the focus of the entire world. One month as the lead story on SportsCenter and the entirety of the Top 10 plays. One month dominating the sports pages, the gambling books, the televisions at all of the sports bars. One month where the media and sponsors don't make excuses, but rather invest in women's sports like their bottom line depends on it. One month where their bottom line does depend on it.
One month, in exchange for an eternity of marginalization.
I can't wait for live sports to come back; but when it comes to men's sports, I think we should all wait just a bit longer.

We're in this together. Thanks for reading and supporting. And please, watch this on loop:
I'm here if you need anything: lindsay@powerplays.news.