White men are the last head coaches standing for the 3rd WNBA season in a row
The data doesn't lie: The WNBA has a diversity dilemma on its sidelines.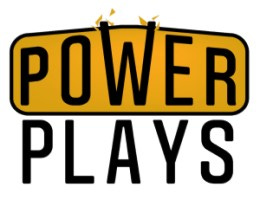 Hi, friends, and welcome to Power Plays, a no-bullshit newsletter about sexism in sports, written by me, Lindsay Gibbs.
Happy WNBA Finals Sunday! Game 2 tips off this afternoon at 3:00 p.m. ET on ABC between the Seattle Storm and Las Vegas Aces. The Storm ended up running away with Game 1 behind a 37-point, 15-rebound, 4-block masterclass by Breanna Stewart.
So I'm not going to keep you all distracted with a lengthy intro here. Let's get right to the main show, which is a thorough analysis of the gender and racial makeup of head coaches throughout the WNBA's history. I promise that it's more fun than it sounds. (Or, at least, I hope it is.)
Remember, you can sign up for Power Plays for free just by putting your email in the box below, and for just $8/month or $72/year you can become a paid subscriber, and help ensure that Power Plays is here to stay.

The damning data behind the lack of Black female head coaches in the WNBA
For years, WNBA players have been at the forefront of the fight for racial justice and gender equity. This summer, they partnered with the #SayHerName campaign to raise awareness of police brutality against Black women, ran voter information campaigns both nationally and in their local communities, and sat out of two nights worth of games after police in Kenosha, Wisconsin shot a Black man, Jacob Blake, seven times in his back.
The league is not only one of the most prominent and long-running women's sports leagues in the world, it's also composed of 88% Black women, according to a calculation by Tamryn Spruill at Swish Appeal in January. Many players are members of the LGBTQ community. Diversity isn't an initiative for the WNBA; it's an integral part of its existence.
Unfortunately, the people who are calling the shots in the league don't reflect that diversity.
That is especially apparent during these WNBA Finals, which have two white, male head coaches at the helm — Bill Laimbeer of the top-seeded Las Vegas Aces, and Gary Kloppenburg of the second-seeded, albeit favorited, Seattle Storm.
This is the third year in a row that both teams vying for a WNBA championship are coached by white men.
The lack of diversity in the head coaching ranks in the WNBA has been written about before — most notably by Spruill and Erica Ayala at The Athletic.
But given recent trends, and particularly the fact that there are currently no Black women serving as head coaches in the WNBA, I wanted to dive deeper into the data. I've spent the past few days crunching the numbers of the race and gender of head coaches throughout the league's history, taking into account factors such as the length of tenures, second — or third or fourth — chances, and playoff appearances.
The numbers paint a staggeringly depressing picture, particularly in regards to the lack of head coaching opportunities for Black women, the demographic that fuels the league. And the numbers also show things are not trending in a positive direction.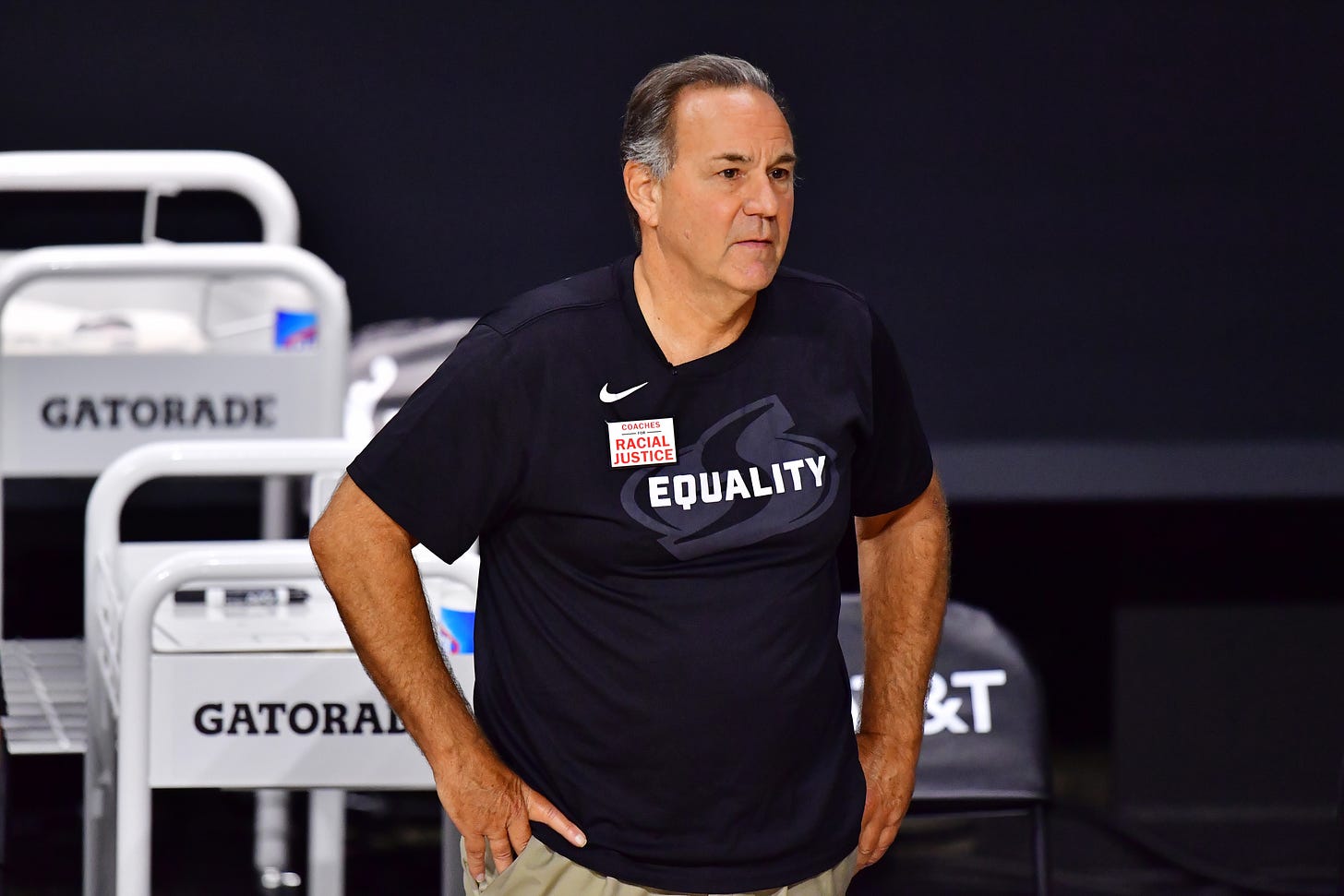 (Pic: Gary Kloppenburg, head coach of the Seattle Storm; via Getty)
A quick caveat about my process: I understand that binary gender and exclusive Black/white categories might erase certain identities and intersectionalities of the head coaches I am accounting for, but I used the best available public information regarding the race and gender of the coaches, and think that the classifications used paint an important, albeit incomplete, story. Also, if there was a head coaching change mid-season, both (or all three!) head coaches that season got credit for a year of coaching. I understand that might not pass official statistician rules, but it seemed like the fairest way to do it at this time. Playoff appearance credit went to the active head coach at the time. Okay? Okay!
Gender diversity in the WNBA is trending sharply in the wrong direction
One of the most surprising things I realized doing this research? Head coaching opportunities for women in the WNBA have decreased over the years.
In the league's debut season, 1997, 90% (nine out of 10) of all head coaches were women — the lone exception was Van Chancellor, the head coach of the Houston Comets, who of course went on to win the first four WNBA championships with that dynasty.

There were eight teams in the league when it debuted. At the start of the 1997 season, four teams were coached by white women, and two by Black women. During the season, the Los Angeles Sparks made a head coaching change from Linda Sharp to Julie Rousseau, bringing the total number of Black female head coaches to three. The Sacramento Monarchs also made a midseason coaching change, from Mary Murphy to Heidi VanDerveer, bringing the total number of white female head coaches that year to five.

In 1998, women still held the vast majority of head coaching positions. There were 10 teams, and three midseason coaching changes, meaning a total of 13 people served as WNBA head coaches in 1998: two white men, two Black men, five white women, and four Black women.

In 1999, white men truly began to take over. That season, six white men served as head coaches, compared to two Black men, four white women, and two Black women.

Men have held at least half of the league's head coaching positions in 18 out of its 24 seasons, including five of the last six years.
Things are absolutely dire for Black female head coaches
Unsurprisingly, but still disappointingly, things are far worse for Black women than white women.
This year, for the first time in the league's 24-year history, there were zero Black female head coaches in the entire WNBA.

In 10 out of 24 WNBA seasons, there has only been one Black female head coach.

This is the 13th season there have been zero Black women head coaching in the playoffs.
Since 2018, there have been 10 new head coaches named. Three openings have gone to white women, five to white men, and two to Black men. Zero have gone to Black women.

There have been 48 head coaching slots in the WNBA finals. Ten white men account for 26 of those slots; seven white women account for 15 of those slots; three Black men account for five slots. Only two Black women — Pokey Chatman (2014 Chicago Sky) and Cheryl Miller (1998 Phoenix Mercury) — have coached in the WNBA Finals. Each only made one appearance.

Fourteen of the 24 WNBA championships have been won by white, male coaches; seven have been won by white women; three have been won by Black men. Zero Black women have won a WNBA championship as a head coach.
The lack of success of Black female coaches isn't a lack of talent, it's a lack of opportunity and investment
If there truly was an equal playing field, one might look at the lack of success by Black female head coaches and think they just weren't cut out for the gig. But, of course, that's bullshit. When breaking down the demographic data, I accounted for factors such as how long each coach spent with their teams, and how many second chances they received.
You can find the full breakdown below, but here are my main takeaways:
Eighteen Black women have coached a total of 44 WNBA seasons. Twenty-one white men have coached a total of 130 WNBA seasons. That means white men have served as WNBA head coaches for three times as long as Black women.

Every coach in the WNBA is under immense pressure to win instantly. But Black female head coaches are given significantly less time (2 years) than other demographics to steer their teams to success. White men are given the most time (3.5 years).

Only one woman — the late, great Anne Donovan (a white woman) — has been re-hired as a head coach in the WNBA more than once in her career. Eight male coaches (two Black, six white) have had three or more tenures with WNBA teams.

(Pic: Anne Donovan coached the Seattle Storm to the 2004 WNBA title; via Getty)
There have been 21 white male head coaches in the WNBA.
Those 21 white men have have coached a total of 130 WNBA seasons.

A white male head coach spends an average of 6.2 seasons in the WNBA, and 3.5 years per team.

Eight have had more than one head coaching tenure in the WNBA: Richie Adubato and Mike Thibault have had two; John Whisenane has had three; Brian Agler, Gary Kloppenburg, and Bill Laimbeer have had four; and Dan Hughes has had five.
There have been 19 Black male head coaches in the WNBA.
Black men have coached for a total of 56 WNBA seasons.
A Black male head coach spends an average of 2.9 seasons in the WNBA, and 2.15 years per team.

Four Black men have had more than one head coaching tenure in the WNBA: Dee Brown and Joe Bryant have had two; Michael Cooper has had three; and Fred Williams has had four.
There have been 25 white female head coaches in the WNBA.
White women have coached for a total of 108 WNBA seasons.

A white female head coach spends an average of 4.32 years in the WNBA, and 2.8 years per team.

Ten white women have had more than one head coaching tenure in the WNBA: Jenny Boucek, Sandy Brondello, Nancy Darsch, Lin Dunn, Candi Harvey, Marynell Meadors, Linda Sharp, Marianne Stanley, and Heidi VanDerveer all had two; Anne Donovan, who was the first female head coach to win a WNBA championship team, was the head coach of five WNBA teams.
There have been 18 Black female head coaches in the WNBA.
Black women have coached a total of 44 seasons in the WNBA.

A Black female head coach spends an average of 2.44 years in the WNBA, and 2 years per team.

Four Black women have been given second chances in the WNBA: Chatman, Jennifer Gillom, Trudi Lacey, and Karleen Thompson. No Black woman has had more than two tenures as a head coach in the WNBA.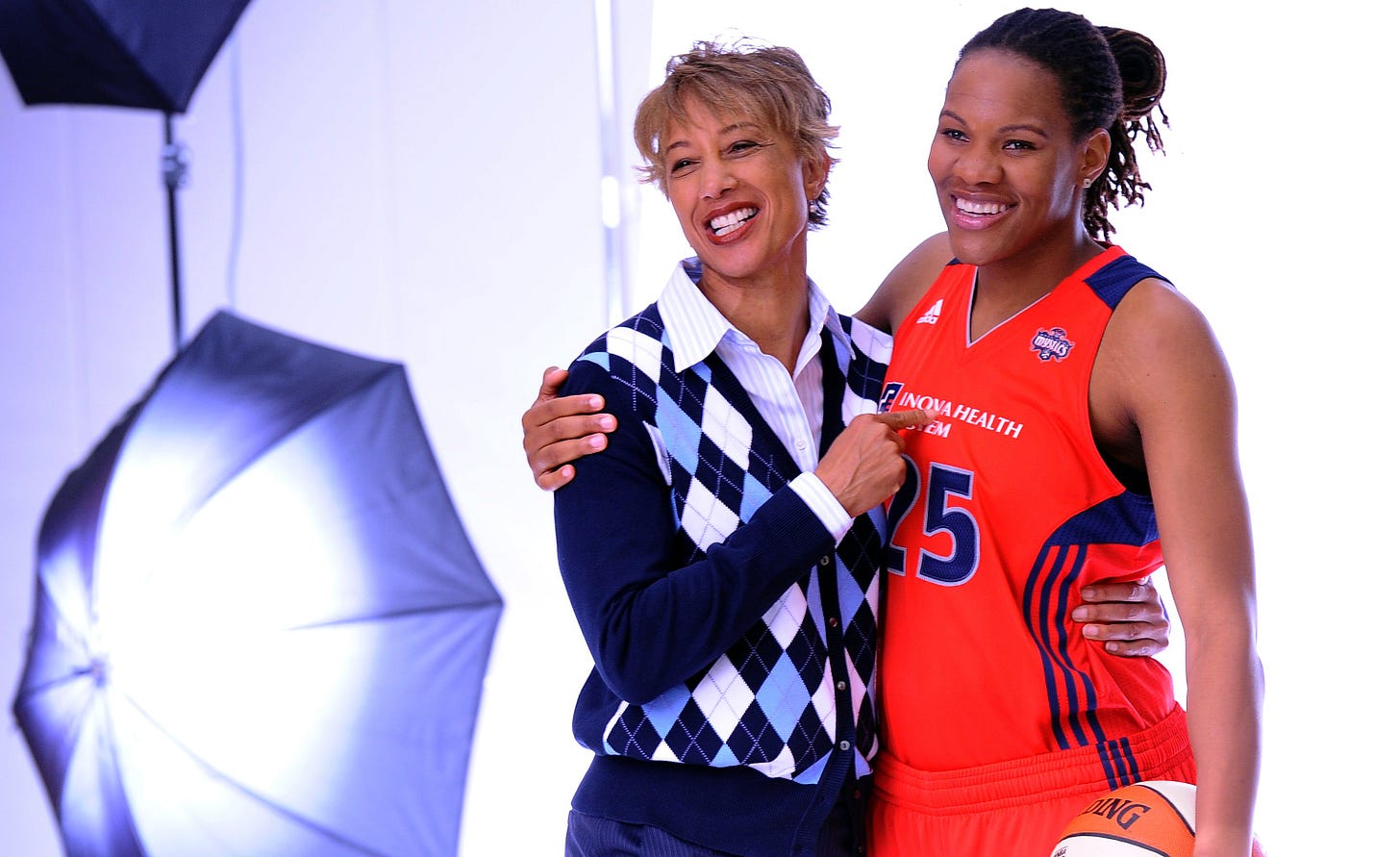 (Pic: Mystics head coach Trudi Lacey and Mystics star Mo Currie in 2011; via Getty)
Getting more women, particularly Black women, in the coaching pipeline is a step in the right direction
As I mentioned up top, earlier this year, Erica Ayala wrote a must-read deep dive for The Athletic about the need to build a pipeline for former WNBA players to transition into coaching in the league. Ayala reported that the league had a new rule in 2020, which allowed teams to carry three paid assistants, "given one of the four coaches — including the head coach — is a former WNBA player."
Having incentives in place to encourage the hiring of former WNBA players onto coaching staffs is a great policy. And, notably, both before that rule and since, more former players have been populating the benches.
There are three Black former WNBA players on the sidelines during these Finals — Noelle Quinn is the associate head coach of the Seattle Storm, and Vickie Johnson and Tanisha Wright are assistant coaches for the Las Vegas Aces.
And they're far from alone. Eight of the 12 WNBA teams have former WNBA players on their coaching staff, and five of those teams employed multiple former WNBA players as coaches this season (Dallas Wings, Minnesota Lynx, Aces, Indiana Fever, and Mercury.) All in all, there are 14 former WNBA players coaching in the league this season, and 10 are Black women. Sandy Brondello of the Mercury is the lone former WNBA player who is currently a head coach.
The Connecticut Sun, Atlanta Dream, Los Angeles Sparks, and Chicago Sky are the only four teams that don't have a former WNBA player on staff, and the Sky are the only team without any women on its coaching staff, period — though WNBA veteran Bridget Pettis was an assistant coach for the Sky up until July, when she decided at the last minute not to join the team at the IMG Academy this summer due to safety concerns.
But without expansion and a shift in hiring practices, the pipeline will soon be clogged
The WNBA only has 12 teams. There are a lot of great, championship-winning coaches still in the game — like Bill Laimbeer, Brian Agler, Mike Thibault, Dan Hughes, Cheryl Reeve, and Sandy Brondello — which means that head coaching job opportunities on a year-in, year-out basis are few and far between.
Ultimately, the WNBA is reaching the same point with coaching talent that it is with playing talent: There is too much of it, and nowhere for it to go. While this might sound like a good problem to have, that mindset can only hold for so long. It is beyond time for the WNBA to expand. (Although I recognize that's a tall order in a global pandemic.)
Owners need to cast wider nets when hiring — something commissioner Cathy Engelbert addressed last week — and make sure to include Black women in their searches. Plus, they need to actively reckon with their own unconscious biases, which might cause them to gravitate towards white men when searching for leaders.
It's important to note that so many white male coaches have helped elevate the WNBA to where it is today, and have served as great allies to Black women, on and off the court. This isn't about running them out of the game. Rather, it's about making sure that this league doesn't leave behind the women who's blood, sweat, and swishes built its foundation.
Analyzing this data showed that Black, male head coaches have often struggled to get opportunities in the WNBA, too, which is especially notable given the fact that so few Black men are currently serving as head coaches in the NBA. That is absolutely something that the WNBA needs to be mindful of going forward. However, in the basketball world as a whole, they still have many more jobs available to them than female coaches do.
Recently, the NBA has begun to hire more former WNBA players as assistant coaches. If that trend continues, it will help close the opportunity gap. But considering women still aren't on equal coaching footing with men in the women's game, equality in the men's game could be generations away.
There's a lot of work to do, and it's going to take a lot of intentionality to diversify the head coaching ranks. But I'd like to think that if any league can successfully do it, it's the WNBA.

From the archives: This problem is nothing new!
Here's an article from the New York Times on December 8, 1998 (you can also read it online, here) about this very issue.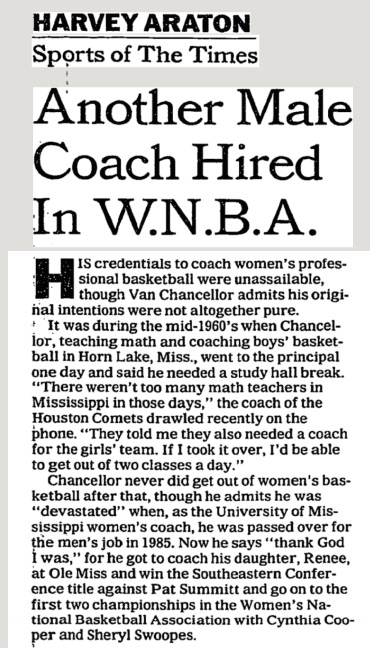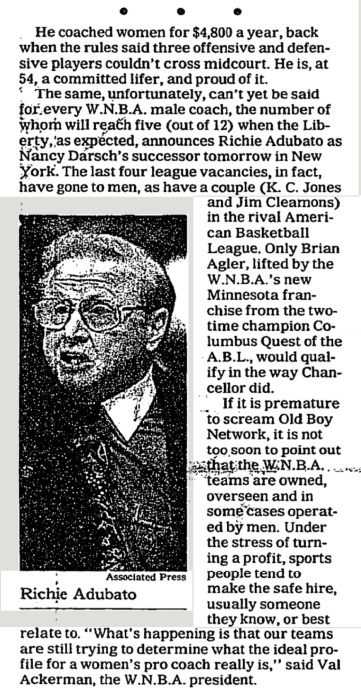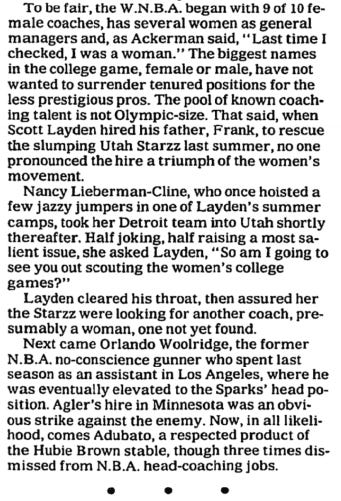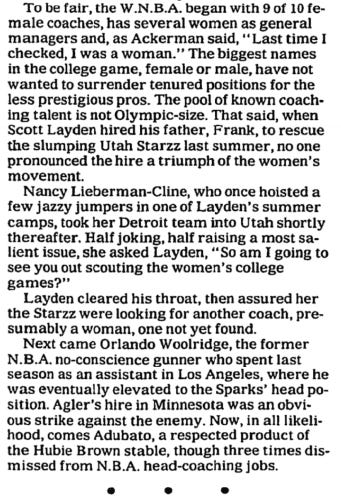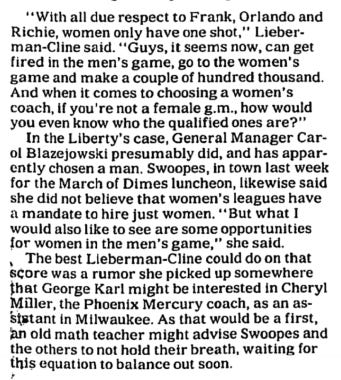 Thanks so much for reading Power Plays! Remember to sign up or subscribe, and if you enjoyed it, please tell a friend.