COVID-19 magnified the systemic sexism that still permeates college sports
Jessica Price reports on the female athletes the coronavirus left behind.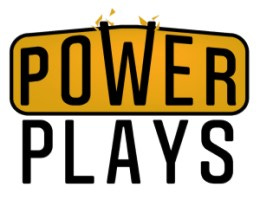 Hi, all, and welcome to Power Plays, a newsletter about systemic sexism in sports, founded by me, Lindsay Gibbs.
Today, I'm handing the reins over to yet another fabulous contributor, Jessica Price.
We've talked before about how the coronavirus will — and, in some cases, already has — disproportionately impacted female athletes, and decisions governing bodies can make to mitigate that loss.
Most of those stories so far have centered around the professional ranks. In this piece, Price focuses in on the ways that the coronavirus cancellations have disproportionately impacted female athletes in the collegiate ranks.
Your support makes this work possible. Thank you!

The athletes the coronavirus left behind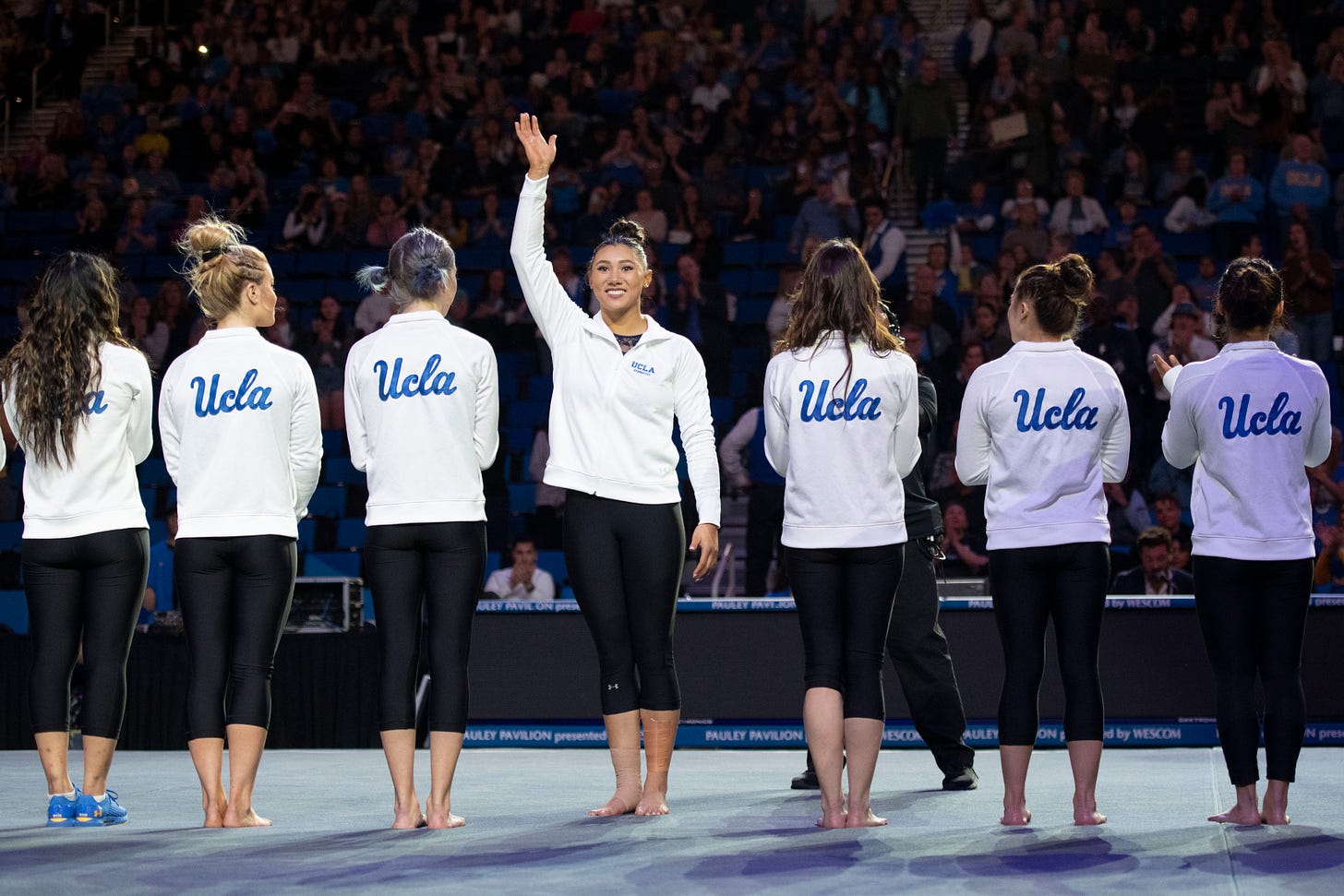 (Kyla Ross, via Getty Images)
Many colleges and universities are holding their graduation ceremonies this month — virtually, of course. And while any excuse to not have to sit in a folding chair for hours in a plastic sheet while torrential downpour is imminent sounds thrilling to me, I'm sure you can imagine why this would be disappointing for this year's crop of seniors. 
Most seniors at least got to finish what they set out to do in college. Some never will. 
Yes, I'm talking about winter NCAA athletes. Back in March (remember March?), the NCAA canceled the rest of the year's competitions due to the COVID-19 pandemic. Then, they decided that spring D-I athletes whose seasons had been canceled would be granted an extra year of eligibility, while winter athletes were, well, not. (Sidenote: The spring athlete issue sounds like an absolute mess — Who gets a scholarship? How will this affect lineups? A topic for another time.)
It was difficult timing for many winter athletes, as seasons were starting to wind down, or rather, wind up: March Madness was promising to be as mad as ever, women's gymnastics was about to head to its regionals season, and rifle was … happening, I assume? Sorry, riflers. 
But across all winter sports, the cancellation was most devastating to the seniors, most of whom were about to end their athletic careers forever. And, perhaps unsurprisingly, it disproportionately impacted those involved in women's sports. Because of the disparities in professional opportunities between men and women, lack of off-field jobs for women in sports, and the career arc for many female athletes, the decision to not grant winter athletes another year of eligibility truly left women with the shit end of the stick.
Who goes pro? Mostly dudes, obviously
It shouldn't come as a surprise that there are already fewer women competing in NCAA than men — according to a report by the Women's Sports Foundation, there are over 62,000 fewer opportunities available for women to play in college, and 87% of schools still offer more opportunities to men relative to the school's enrollment, falling short of Title IX compliance.
But of those women who do compete in college, there's anything but a smooth trajectory if they want to continue their involvement in sports after graduation, virtual or not.
Opportunities to play beyond college are, of course, hard to come by, regardless of gender. The NCAA doesn't mince words about that, advertising that fewer than 2% of NCAA athletes will go pro. That means that a grand majority of the senior athletes this winter are just done, done for good, on the couch like the rest of us. 
But considering that 2% overall will go pro, the statistics for men's basketball, the most popular winter sport, are astronomical: a full 21% of male basketball players will play professionally after they graduate, by far the largest percentage across NCAA sports. This includes the paltry 1.2% who will be drafted by NBA teams, plus many hundreds more who will play for international leagues.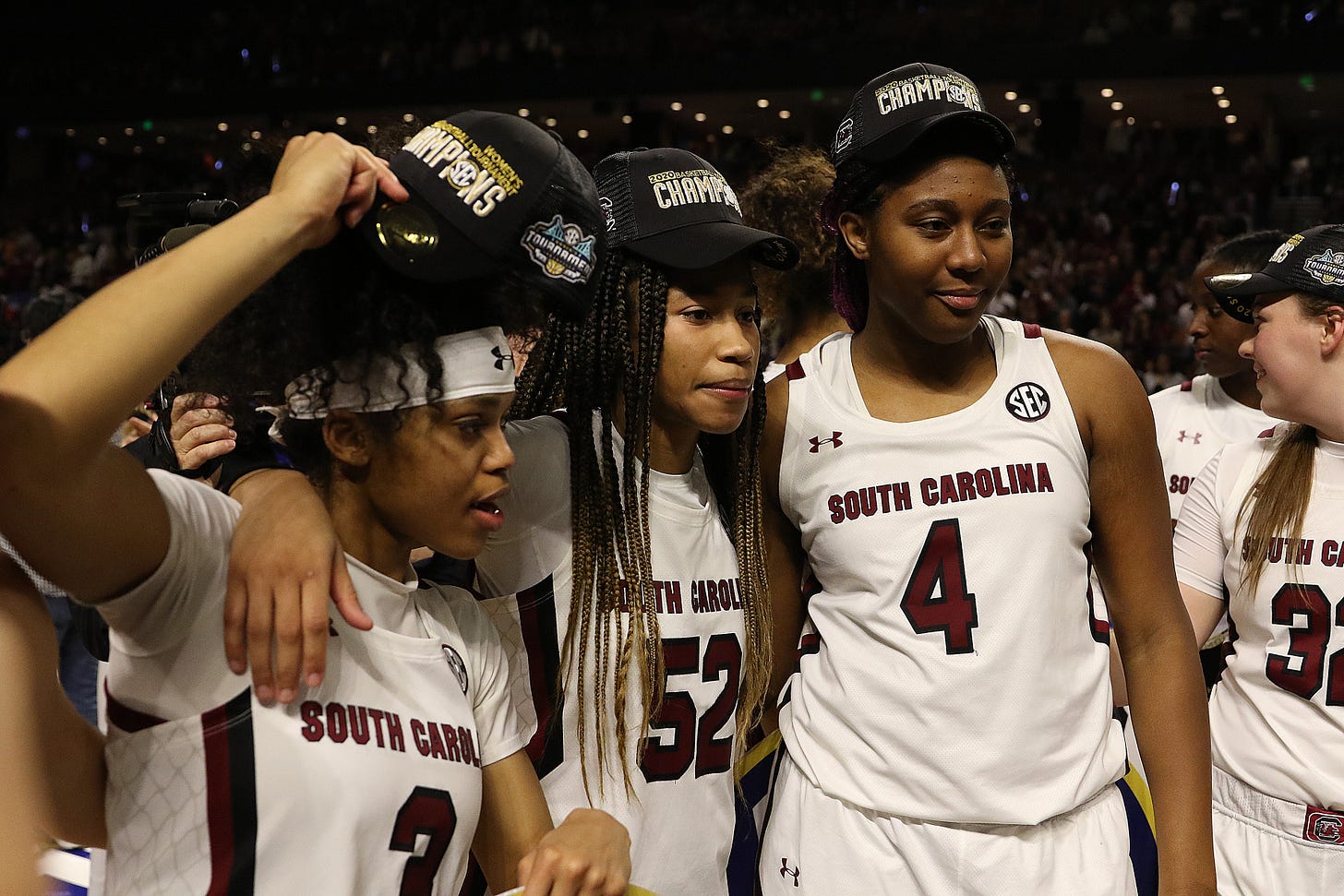 (via Getty Images)
And while female basketball players also have international opportunities — and many are forced to use them due to low salaries at home — the pro rate only goes from .8% for WNBA to 6.9% for total professionals. Similarly, while 7.4% of men's hockey players will go pro, the NCAA didn't even include this stat for women's hockey players in its report — after all, there are only a total of six teams in the NWHL, and only a couple hundred spots.
There's even a disparity in how many women will end up playing sports recreationally as adults outside of the collegiate or professional ranks. According to a Harvard School of Public Health study conducted in 2015, men are more than twice as likely as women to say they play sports. While it's unclear what the reasoning is for this — ahem, it's the patriarchy — it further illustrates that more of the female athletes are done here than the men.
Who gets other careers in sports? You guessed it
Yeah, it's mostly dudes. 
According to the same WSF report, only 43% of NCAA coaches of women's sports are women — a decrease from 1971, when it was 90% — and less than a quarter overall are women. The number of leadership positions taken up by women in the NCAA and at the Olympic level are also quite low. 
It doesn't get much better for little league: A 2015 survey found that only 27% of youth coaches were women; the numbers were similarly abysmal for high school coaches. And if young girls aren't inspired by having their soccer team coached by a dude, they're not seeing women coaching on TV either. In 2018, 37.2% of professional staffers in the NBA were women, and even the WNBA is less than half employed by women. Twenty-eight percent of NFL franchise employees are women. 
As for other careers surrounding sports, I can speak from experience that sports media is so lucrative and stable that I have no choice but to do it on the side. There, the WSF report found that men are dominant — 90% of all sports editors and 83.4% of all columnists are men, and the broadcasting world is just as, if not more, bleak. 
In short, the outlook for a female athlete looking to continue in the sporting world in any capacity is pretty dim, meaning for this year's senior female winter athletes, this was their swan song. Which brings us to...
What they gave up for this
The winter NCAA seasons were canceled just as things were getting more interesting: The NCAA DI women's hockey tournament was cancelled two days before the quarterfinals were meant to be held, and the NCAA DI women's basketball tournament was supposed to be held throughout March and April. 
And while it's somewhat consoling that the women playing for the top teams in these tournaments have the highest chance of playing professionally after they graduate, this isn't the case for gymnastics. 
Things are done a little differently in women's gymnastics, a strong candidate for the single most problematic sport in existence (bracket to come). Yes, there are five times as many female gymnasts as men in NCAA. But even though gymnasts' careers work backwards compared to other NCAA sports — the very best will compete at the highest levels before toning things down to join an NCAA team — the rules work the same way. Regardless of how high they go in the gymnastics world, female gymnasts are not allowed to collect on anything or risk losing their NCAA eligibility. 
Enter Kyla Ross and Madison Kocian. Both are Olympic gold medalists and seniors at UCLA who, despite the slew of attention given to their respective Olympic teams in 2012 and 2016, didn't earn a dime from their careers, instead opting to compete for UCLA. As a teenage elite gymnast, choosing between college and professional opportunities is a difficult decision, and it's a gamble that doesn't always pay off — Arkansas head coach and 2012 Olympic gold medalist Jordyn Wieber reportedly once asked if she could give her sponsorship money back so she could compete for UCLA. Wieber had signed with adidas, but was injured at the Olympics and didn't do her best, costing her perhaps millions in earnings on top of NCAA eligibility.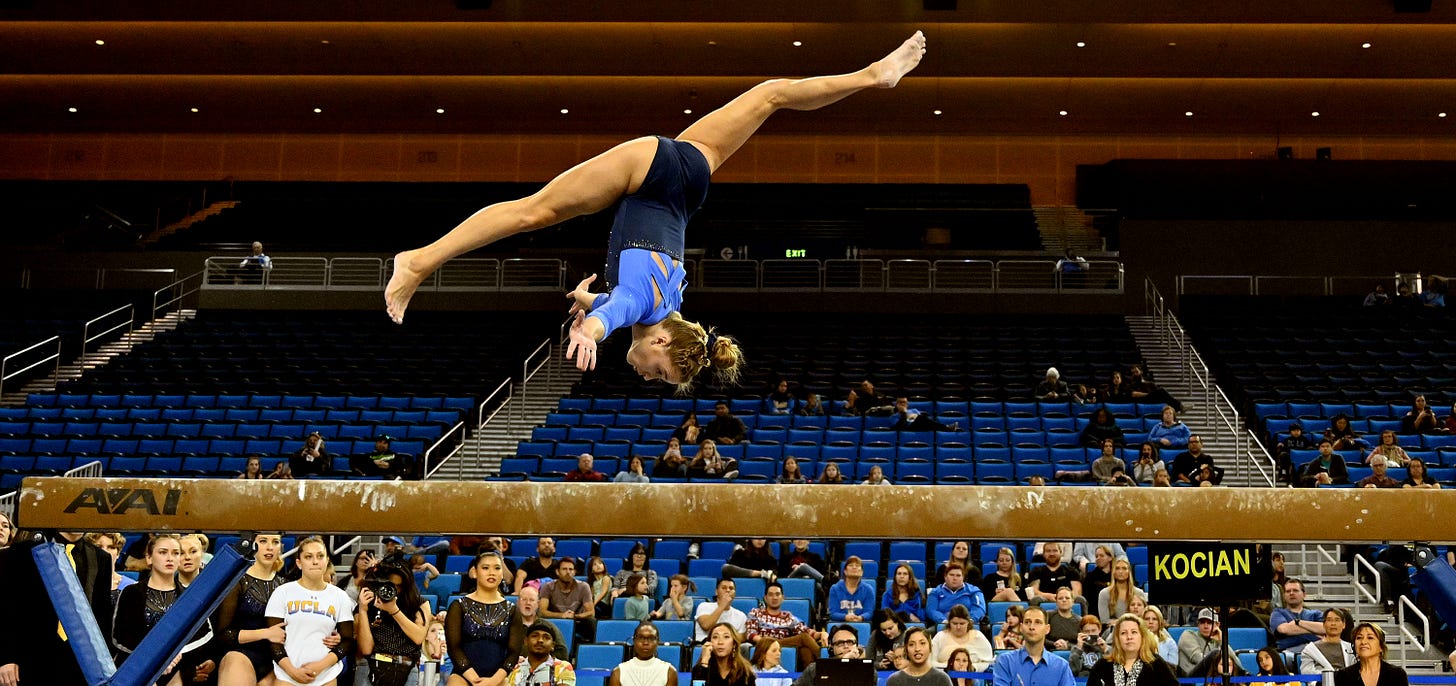 (Madison Kocian, via Getty)
Kocian and Ross said in a 2017 article that they'd made the right decision, with Ross saying that college was "something I had always planned for." But in the same article, both admitted that they envy their teammates' professional opportunities. Of their Olympic teammates, Simone Biles and Gabby Douglas have signed deals with Nike, Aly Raisman with Reebok, McKayla Maroney with 7UP, and Laurie Hernandez with P&G. Simone Biles, Aly Raisman, and Laurie Hernandez have all appeared on Dancing with the Stars, a show I've never seen but I assume is fun for the whole family.
If you asked Kocian and Ross if the gamble was worth it after three and most of a fourth NCAA seasons, they'd almost certainly say yes. But when COVID-19 hit, Ross was at the top of her game, and she and Kocian were ready to say goodbye to college with a bang.
The matchup that never was
When the winter season was canceled, Ross and Kocian had Senior Night to look forward to, followed by regionals, and a fight for the national title. 
Which brings us to the final Maggie Nichols/Kyla Ross matchup that never was. Nichols — who, along with Kocian, once appeared in an excellent Under Armour ad for zero dollars — is one of the greatest gymnasts to ever compete in the NCAA. She won the national all-around title in 2018 and 2019, along with a slew of apparatus titles. She earned 22 perfect 10s in her career, and was edging toward the record of 28. 
Ross, meanwhile, took second behind Nichols in the all-around last year, and was similarly racking up 10s all year, matching Nichols' 22 when the season was canceled. When the season ended, Ross was third in the all-around standings, while Nichols was first. 
Nationals would have — should have — been the matchup of the century between the two star seniors. But now … not so much. After giving up potentially lucrative professional careers for four full years of competition, instead, Kocian, Ross, and Nichols' NCAA careers were abruptly ended by something out of their control. 
"Usually, you have this expectation in your mind of how you want your season to end and you usually have control of being out there on the competition floor," Ross told The Guardian. "But just having the news given to you and told that you're done is the hardest."
Now, Ross says she's "at peace" with what happened, and told NBC Sports, "I feel like I've accomplished everything I wanted to in gymnastics." As for the fans, well … we'll get over it, right? Nah.
The bottom line: It sucks
Nothing's going to change that. For her part, Nichols made an effort last month to change the NCAA's mind, tweeting, "In the blink of an eye, what we have done our entire lives has gone … Most importantly, we do not have the opportunity to end our careers on our own terms." But the NCAA won't budge. 
Since Nichols' tweet, schools have honored their seniors on social media, postseason awards have been handed out, and graduation has come and gone at many colleges and universities. And many other healthy, capable winter athletes who were ready to end their careers on their own terms will never have that opportunity. For many, they'll be forced to move on. 
In a world with equal opportunities for men and women in sports, though, fewer of them would have to. Sure, we've come a long way since Title IX: According to the WSF report, there was a 291% increase in female athletic opportunities in NCAA from the 1981-82 and 2017-18 sports seasons. And as we've seen in the past few years — from the U.S. women's dominance at the 2016 Summer Olympics, to the U.S. Women's National Soccer Team's latest World Cup win in 2019, to Serena Williams' continued success — women's sports are getting more and more attention in the mainstream media. 
But we've still got a long way to go, and much to do: Enforcing Title IX compliance, for one, and closing the gap in opportunities to play at the college level. Hiring more women to help run professional leagues and to cover sports — and to cover women's sports. Making it worth it to pay professionally, by paying women equally for equal work. Allowing women in NCAA to cash in on their careers while they can, and maximizing their exposure in the public eye, through endorsements — a change that might come as early as the 2021-22 athletic season.
Canceling the remaining winter and spring seasons was certainly the right move in light of a global pandemic, and the decision itself obviously wasn't a sexist one. It's just one that happened to hit women the hardest — exposing the gender disparities that exist at every level of sport.
Jess is a sportswriter living in Boston with her husband and two beloved guinea pigs. You can find her (and, occasionally, the guinea pigs) on Twitter.

This edition of Power Plays was free for all, but the newsletter is funded by paid subscriptions. Become a paid subscriber today to get more Power Plays in your life, including membership to our Book Club, access to open threads, and timely analysis of breaking news, such as last week's breakdown of the new Title IX regulations.