Dick's Sporting Goods takes a big 'Bet on Women'
For once, I have GOOD NEWS about women's sports merchandise!!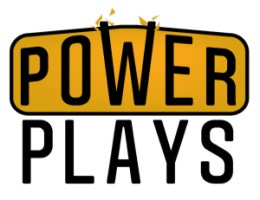 Hi friends, welcome to Power Plays, the newsletter for those sick of excuses, and ready to see equality in sports, written by me, Lindsay Gibbs. Most of you know the drill by now, but I'm just going to quickly remind you that this is an independent production, and it's only possible thanks to your support.
Every day, the Powers That Be in the industry say that there's not a market for full-time women's sports journalism. Every day, together, we prove them wrong. Here are a few ways you can help me keep that momentum going:
Today's newsletter is HAPPY NEWS. So, let's get straight to it, why don't we?

'Bet on Women' t-shirts from Breaking T and the WNBPA will be in 120+ Dick's Sporting Goods stores across the country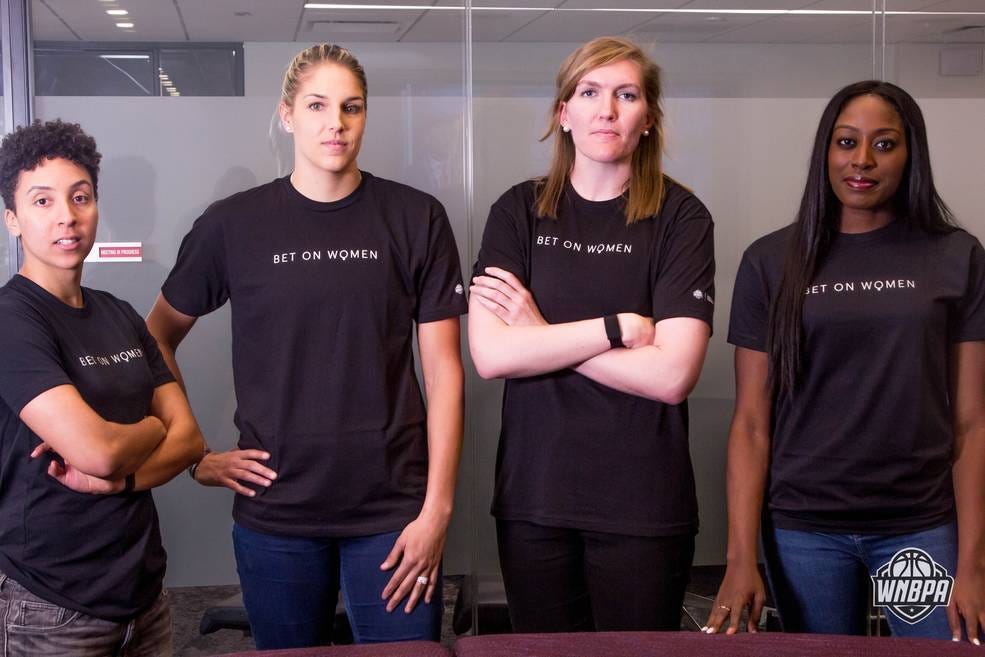 (WNBA stars Layshia Clarendon, Elena Delle Donne, Carolyn Swords, and Chiney Ogwumike; pic via Breaking T)
Nearly one year ago (!!) when Power Plays launched, I wrote an article about my struggle to find Washington Mystics championship gear in stores in the D.C. area. Less than three weeks after the Mystics won it all, I went to three Dick's Sporting Goods, Nike, Champ's, Lids, WalMart, and Target, and found zero traces of Mystics gear. I was, to put it mildly, infuriated.
Unfortunately, I am not in Seattle right now to search the shelves for Seattle Storm championship gear. However, I am excited to share some good news when it comes to the world of women's sports merchandise.
Power Plays can report that starting this week, the "Bet on Women" t-shirts, a collaboration between Breaking T and the WNBA Players Association (WNBPA), will be available in over 120 Dick's Sporting Goods stores across the country.
"This just opens up the doors of what we can do with women's sports merchandise," Jamie Mottram, the president of Breaking T, told Power Plays.
"We've had a lot of success in the last two and a half years with our different WNBPA and U.S. Women's National Team Players Association (USWNTPA) licensed products. And then on a parallel path, we've had a lot of success with Dick's and other retail. This brings those together in a powerful way, and it continues to lay the path for more of our women's sports merchandise in retail in the future."
Breaking T has had a relationship with the WNBPA since the summer of 2018. The "Bet on Women" t-shirt was born in November of that year, when WNBPA president Nneka Ogwumike wrote an essay with that title on The Players' Tribune, announcing that the WNBPA was opting out of its collective bargaining agreement with the league in order to fight for a more equitable contract. While Breaking T did not know ahead of time that the Players' Tribune piece was coming out, since it had an established relationship with the WNBPA, it was able to get the shirts to market very quickly.
The message gained steam this January, when the WNBPA and WNBA unveiled the most lucrative CBA in the history of women's team sports.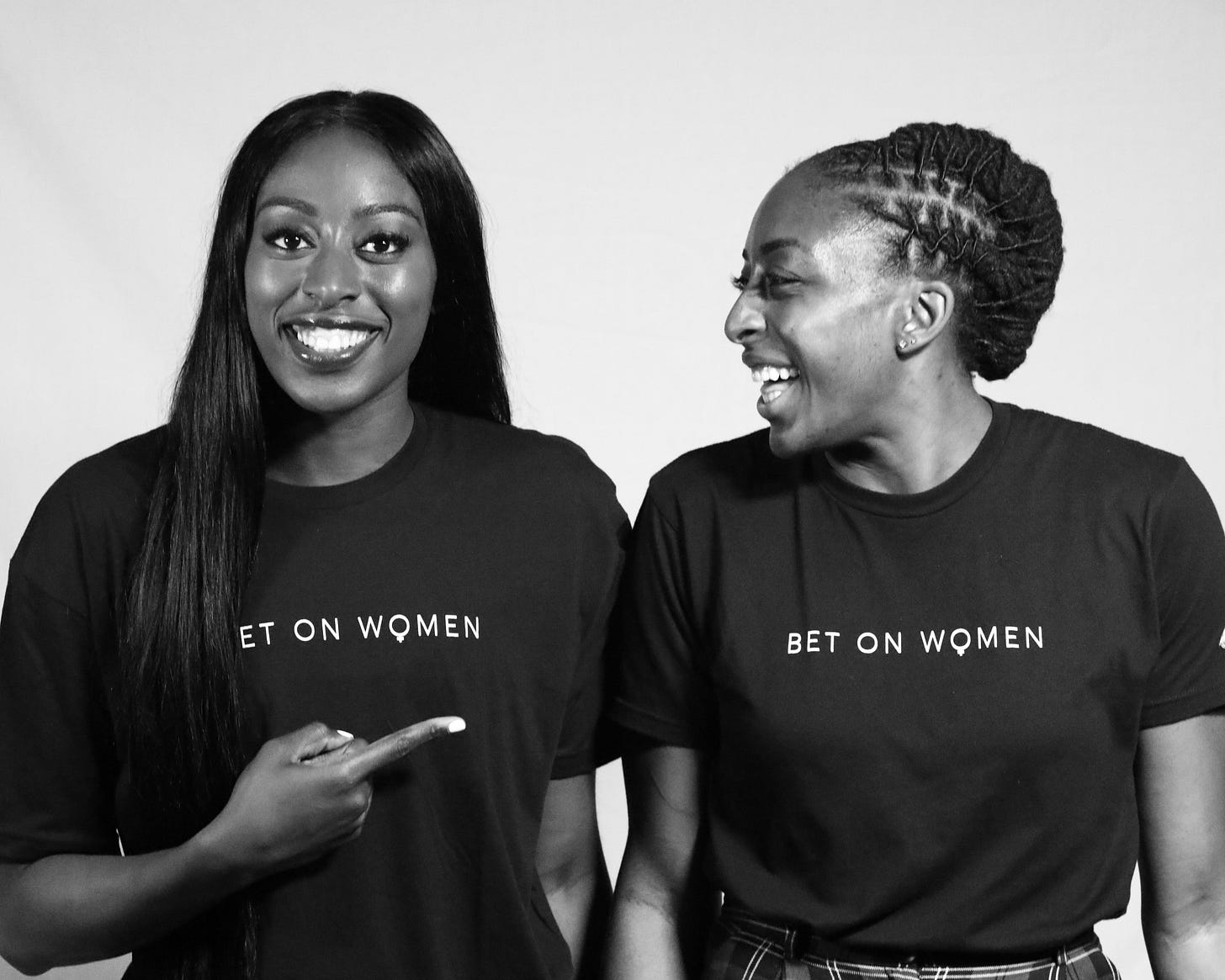 (Chiney and Nneka Ogwumike; pic via Breaking T)
Breaking T started working with Dick's Sporting Goods last December, which was a relatively slow time for women's sports. Then, the pandemic happened and threw everything retail-related into question. However, Breaking T kept looking for — and finding! — retail opportunities. During the WNBA season, Dick's ordered Breaking T's A'ja Wilson MVP shirt and a Seattle Storm shirt for sale both online and in local retail stores in Las Vegas and Seattle, respectively.
Dick's originally planned to put the "Bet on Women" shirts in stores in the 12 WNBA markets, but thanks to the success of the WNBA season— ratings were up 68% — and Breaking T's great track record, Dick's decided to put the t-shirts in every WNBA *and* NBA market.
"We're proud to come together with Breaking T to support the WNBPA's 'Bet on Women' campaign by making the campaign's t-shirt available on dicks.com and in select Dick's stores across the country," said Melissa Christian, the vice president of brand and category marketing at Dick's Sporting Goods. 
"Dick's believes the advancement of women and girls not only in sports, but in society, is an important issue currently facing our nation. As a leader in the sports industry, it's our goal to do what we can to help empower women through sport, and we are excited to amplify this message by making the powerful 'Bet on Women' product available to our customers."   
There is, of course, a long way to go when it comes to making women's sports merchandise as widely available as men's sports merchandise. But this investment by Dick's is a step in the right direction. And it's also notable that last year, when I searched for Mystics gear on dicksportinggoods.com, there were only four options to choose from. This year, there are 14 options for the Seattle Storm. You can even buy the official Storm championship t-shirts there, something you can't even do on the Nike online store.
From its infancy, Breaking T has seen women's sports as an untapped marketplace with tons of potential. And that focus has paid off.
In March, Mottram spoke to Power Plays about how the "Four Stars" shirt it sold in the wake of the USWNT's protest against U.S. Soccer became the best-selling online product in the company's history. And it came at a crucial time, right as the coronavirus pandemic was breaking out, and the future of sports and the economy were not just in doubt, but in peril.
"[T]hat was a really, really tough day," Mottram said. "And then the same hour as Trump addressed the nation and Hanks and Rita Wilson were sick and the NBA was suspended, the U.S. women's national team protested U.S. Soccer, and inspired our number one selling product ever."
This summer, Breaking T collaborated with the WNBPA for "WNBA Speaks" shirts that highlighted the WNBA's anti-racism activism on the front, and then on the back, had the the name and jersey number of players. The company designed a shirt for every single player on every single team this season — which was incredible for fans, because the WNBA does not sell jerseys for the majority of players in the leagues, only the top stars.
Well, within the first weekend, fans had purchased "WNBA Speaks" shirts for 100 different players in the league. And by the end of the WNBA season, at least one "WNBA Speaks" shirt had been purchased for every single player in the league. According to Breaking T, the third quarter of this year was by far most successful in history for WNBPA merchandise, thanks primarily to the success of the "WNBA Speaks" merchandise.
The lesson here? Women's sports fans are hungry to buy merchandise to support their favorite players and teams and messages. It's about time someone caught on.
One more quick thing: Go find them if you can, and send me proof!
If you see any women's sports merchandise for sale in the wild, take a photo and send it to me!! Has anyone in Vegas spotted the A'ja MVP shirts? Seattle fans, are you spying any championship gear? And let's all go see if the "Bet on Women" shirts are properly on display. (And buy them, of course, if you're able. What a great holiday gift!)
Oh, and if you do not see such merchandise in your local stores? Request it from the manager! And send me some pics and we can call places out who aren't showing respect, too. There is power in accountability.
I lied, I have another thing: A few other stats that prove that if women's sports merchandise is available, people will buy it
(This is an incomplete list, in no particular order, but I started compiling it a few weeks ago for an article I didn't end up publishing, so I thought we'd just put it here.)
The Tobin Heath and Christen Press Manchester United jerseys outsold all players on the Manchester United men's team.
The 2019 USWNT stadium home jersey became the No. 1-selling soccer jersey, men's or women's, ever sold on Nike.com in one season, and after the USWNT won the World Cup, Nike sold out of championship jerseys almost instantly. That's because, as reported by Caitlin Murray at Yahoo, Nike initially only made 1,000 jerseys available.
The Portland Thorns launched an exclusive merchandise line during the Women's World Cup last year, which out-sold Portland Timbers MLS merchandise. The Chicago Red Stars sold out of many sizes of their "Neighborhood" jerseys within a day of unveiling them. On June 25, Sky Blue FC nearly shattered their previous single-day merchandise sales record with $30,000 worth of sales in a single day.
In April, GQ reported that men will wear actually wear the jerseys of female athletes if brands offer them. Imagine that!
Last November, Sabrina Ionescu complained that Nike didn't sell any Oregon women's basketball jerseys.
Within a week of that tweet, Nike was selling Ionescu jerseys, and they sold out in about two hours. And Ionescu's New York Liberty jersey sold out within an hour of her being drafted No. 1.
Oh, and the WNBA orange hoodie has become the bestselling merch in league history.
TAKE OUR MONEY, BRANDS AND TEAMS. WE CLEARLY ARE DYING TO PART WITH IT.

Thanks for reading Power Plays, friends. One sign-up, one subscription, one newsletter, one share at a time, this community is chipping away at change.