In their own words: How Covid-19 is impacting women in sports
"A lot of athletes will go back to work. I probably will be one."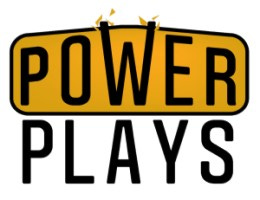 Hello! In today's edition of Power Plays, you're going to hear directly from a lot of people in the women's sports community about how the coronavirus is impacting them. You'll hear from elite athletes such as University of Maryland basketball stand-out Kaila Charles; pro volleyball player Chiaka Ogbogu, who was playing in Italy when the outbreak began; WNBA All-Star Elizabeth Williams; and Olympic hammer thrower Gwen Berry; as well as sports reporters, athlete representatives, and the co-owner of a pro womxn's team that was about to start its first season.
It is an incredibly comprehensive view of how this pandemic is impacting our community, and I'm very proud of it.
But first off: Thank you so much for the enthusiastic response to Tuesday's newsletter detailing how Power Plays will go forward during this unprecedented time.
ICYMI, the main takeaway is: As others ramp down women's sports coverage, I'm revving things up thanks to your unbelievable support. There will be at least four newsletters each week going forward, and I'm using my now-useless travel budget to pay freelancers to contribute. You will start seeing those freelance pieces next week.
Every paid subscription helps make this work possible, so thank you so much to everyone who has supported Power Plays financially. Since I know these are tough times for everyone, I am offering a Maya Moore special, which gives you 23% off a Power Plays subscription for a year.
Additionally, I've been hearing from people who have had to cancel their monthly subscriptions due to financial difficulties caused by coronavirus. If you want to help those in our community who are struggling right now, and help me continue to pay freelancers, you can click the button below to donate a subscription. (You no longer need to have an email address of a recipient to donate one, the process has been streamlined. However, if you do want to donate directly to one person, click on the "gift subscription" link.)
Okay friends. Let us do this.

Like many college seniors, Kaila Charles missed her last chance at NCAA tournament magic
One month ago, I sat down to interview Maryland senior Kaila Charles. It was a couple of days before Maryland's senior night, and she was having a hard time believing that her Maryland career was coming to an end.
Her overwhelming emotion at the time? Gratitude.
"I didn't realize how fast it would go," Charles said. "I know everybody tells you, but you really don't know until it's actually your four years and you actually experience it."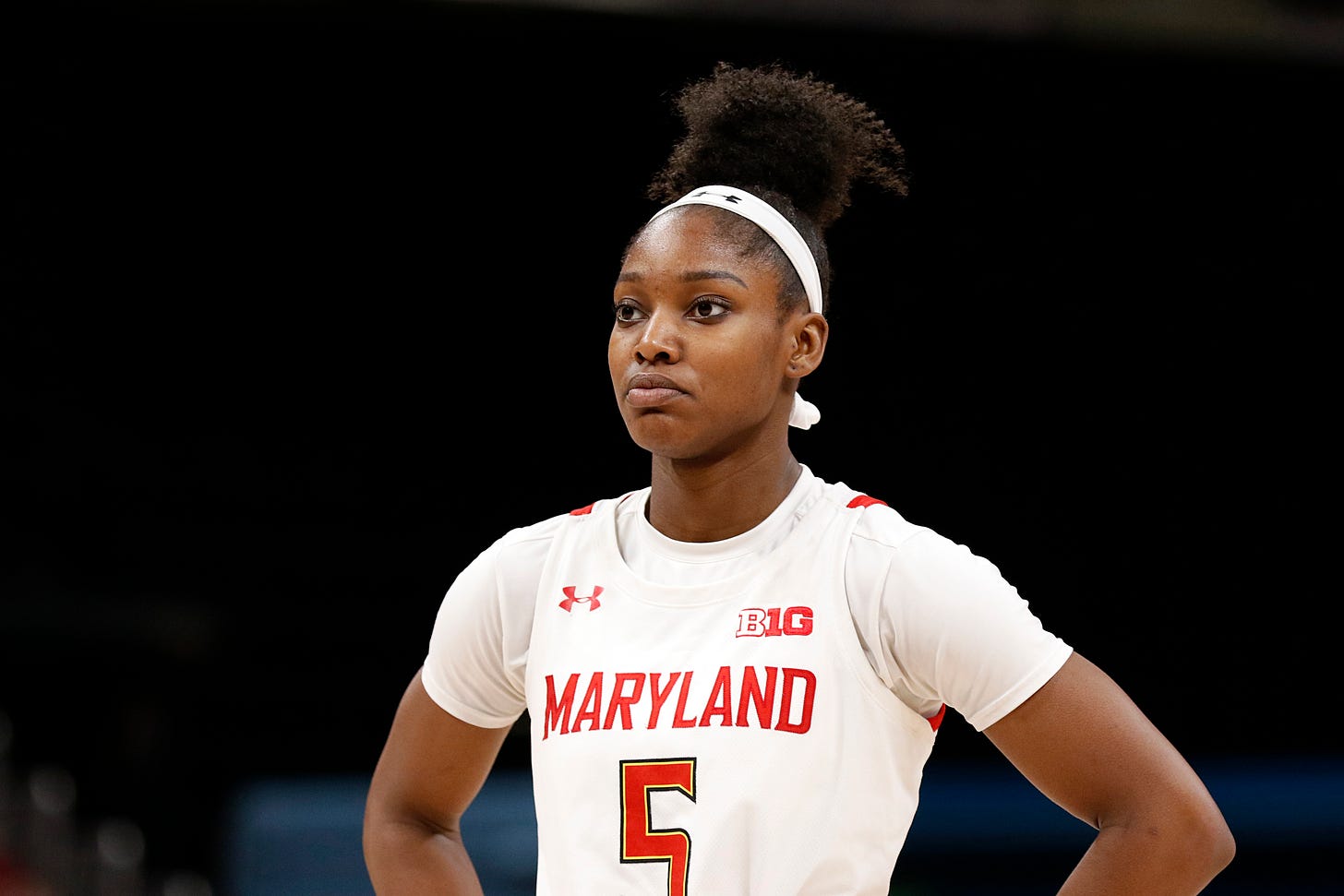 (Kaila Charles via Getty Images)
Still, she had a lot to look forward to. Maryland likely needed to win their final two games of the regular season to tie for first in the Big 10 with Northwestern. (They did this.) Then, they would head to the Big 10 tournament in Indianapolis, where the Terps would look to avenge their runner-up finishes from the past two years to grab the championship. (They accomplished that, too.)
Finally, Charles was excited to lead the Terps to some redemption in the NCAA tournament. The past two years, Maryland fell in the second round. Last year, Charles actually played the second-round game against UCLA with a broken foot — and although she still had 23 points and 8 rebounds, she felt she didn't get the chance to show her best.
This year, the Terps were likely to be a No. 1 seed, and all eyes would be on Charles, who is expected to be selected in the WNBA draft next month. (Most mock drafts have her as a second-round pick, but the NCAA tournament can always change things.)
Of course, she never got a chance to lead her team to the Final Four.
"When people said the tournament might get canceled, I kept saying, 'No don't say that, be optimistic. Hopefully like we can at least get this one weekend through, you know, get two more games at XFinity,'" Charles told me this week when we caught up.
"In the back of my mind, I knew it was coming. But when they actually said it, it really shocked me. I had no words. There were so many emotions going through my head, because I felt robbed. We had so much to prove."
In hours, she went from practicing with her teammates for the biggest tournament of her career to sitting in the locker room with those beloved teammates — likely for the last time ever — saying goodbye. She's on lockdown with her big family in Maryland, only occasionally escaping when her old AAU coach opens up a nearby gym for her, hand sanitizer included. The WNBA draft will still happen next month, albeit virtually, so she's thankful for that. And she's glad that she did get to finish her college career under confetti at the Big 10 tournament. She's trying to look at the bright side.
"We'll always go down in Maryland history as the team that had its season ended by the coronavirus," she said.
Of course, Charles is far from the only person in the women's sports community reeling right now. Below, you'll see interviews I've done with elite athletes and statements that others across the industry have sent me. All quotes have been lightly edited and condensed for clarity.
Elizabeth Williams says it will be "devastating" if the WNBA season ends up getting canceled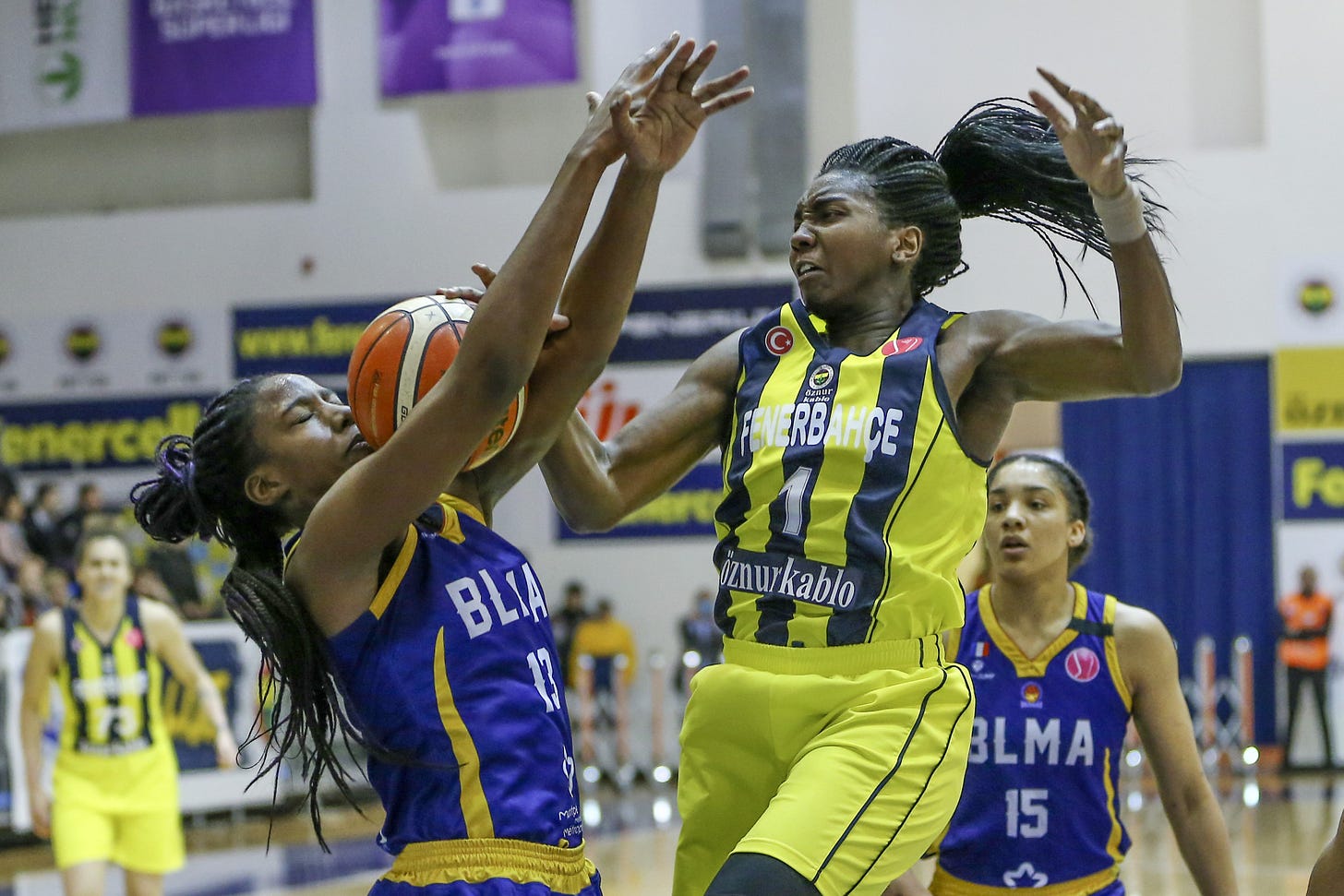 (Elizabeth Williams, No. 1, via Getty Images)
Atlanta Dream center and WNBA All-Star Elizabeth Williams was playing overseas in the Turkish League and EuroLeague for a prominent Turkish team, Fenerbahce, when the coronavirus started to spread. She spoke to Power Plays about the chaos of the last month. (You will be able to listen to this full interview on the Burn It All Down podcast this weekend.)
What the month of March has been like for Williams:
We finished up Turkish Cup, that was March 3-7, and then we were just kind-of wrapping up EuroLeague and had some Turkish League games left to play as well. So we played our last EuroLeague game on the 11th, it was the first game of the quarterfinals. And then not long after that EuroLeague announced that they would be suspending.

Turkey in particular was really late to the party, partially because they were saying, "Hey, we don't really have a lot of cases here." They were really strict about their borders with Italy and China and canceling those flights. So their government generally wasn't super concerned, and our league ended up being the last one to be canceled.

We actually played Turkish League that weekend, but we played with no fans. That was weird, especially because we were playing our rivals, and that game is usually wild, with crazy security. Apparently last year the fans were throwing bottles at Kelsey Plum. This time is was so quiet.

Then this week, the Turkish League finally announced on Wednesday or Thursday that the league would be suspended. So we all hopped on flights back on Friday, because we heard that the U.S. might be shutting borders. So everyone was kind of scrambling. Now I'm back in Atlanta.
How this impacts the players in the EuroLeague financially:
We make a lot of our bonus money around now — like in the EuroLeague Final Four people make bonuses, in league championships, playoffs. So a lot of players make a good amount of money around this time of year, and that's money that I don't think teams are gonna pay. And then they're probably going to argue that since they're out of work, the sponsors are not working, so they're not generating any money to pay us. So, it's gonna be interesting because at the end of the day, I think FIBA is going to be the ultimate decider as far as what teams are going to have to pay, because I don't think there's anything contractually that considers this type of crazy circumstance.
Williams — who was on the executive committee of the WNBPA and helped negotiate the new WNBA CBA — on what it would mean if this WNBA season has to be canceled:
That would be really devastating. We pushed so hard with the league to make sure that we could get an agreement out that was really great for both sides. We have a lot of momentum.
Olympian Gwen Berry has lost her sponsors, will have to get a day job, and might not try for the 2021 Games
About five weeks ago, Power Plays featured Gwen Berry who rose her fist on the podium of the Pan Am games in 2019, and was an outspoken critic of the IOC's new rules banning political protests from the Olympics.
Power Plays caught up with the hammer throw champion this week about how she is doing.
How Berry is feeling now that the Olympics have officially been postponed, and won't take place until 2021:
I'm having mixed emotions. I guess I'm 50/50. Fifty percent of me says, of course, safety's first, family is first. The other 50% definitely, is like, man, I gotta wait another year. You know, I'm getting older, my son is about to graduate high school pretty soon, so I really don't know how much time I have left. So you know I don't know what's gonna happen in a year. You know, I had the season, all planned out. So, I have to go back to the drawing board to see what I'm going to do for now. I have to see how my family feels about everything. I don't know if I will be able to try for the 2021 team.
How this postponement hurts Berry financially:
It's impacting me a lot financially, because I think a lot of the sponsors have pulled out because a lot of sponsors sponsor athletes only for the Olympic Games. For me, a lot of my sponsors pulled out. Also there's no competitions, and track and field athletes rely on those competitions for income. So with no competitions, no Olympic Games for the exposure, we have nothing. We literally have no income. So a lot of athletes will go back to work. I probably will be one. I have to look for another job here in Houston. I used to work at Dick's Sporting Goods, and I used to do Postmates, so I'll probably find something else to do that will hold me over until the end of the year at least.
How Berry feels about the International Olympic Committe's slow decision-making process:
I was annoyed. I felt like the IOC drug out the decision, and it was unprofessional. A lot of athletes, it's better for them to know sooner than later. Most athletes that I know have children, have families, they're away from their families, and they've already made so many sacrifices. If they made the decision a month earlier, you know a lot of people could have been more proactive, probably could have booked flights to go home, you know made arrangements to do certain things. But the IOC waited until literally the last minute, and most people can't even travel anymore.
Pro volleyball player Chiaka Ogbogu terminated her contract in Italy to protect her mental and physical health
Sooo much love for these girls! First trophy of the season!!
#supercupchamps
🥳🎉🏆
Chiaka Ogbogu, 24, is a Texas graduate who was playing pro volleyball for the Italian club Imoco Volley Congegliano this season — a very elite team. She is also a member of the U.S. national women's volleyball team. The middle blocker talked to Power Plays about what it was like playing in Italy as the coronavirus outbreak spread, and why she came back to Texas before her season was officially canceled. (You will be able to listen to this full interview on the Burn It All Down podcast this weekend.)
When it hit Ogbogu that the coronavirus might impact her season:
I would say that for us, we started hearing rumblings about it in January. I think the thing that's crazy for me specifically and my team, we were actually in China in early December competing in a tournament. But I think, like most of the country, we kind of saw it as like a distant issue like never expected it obviously to grow to the level that it's grown to and impact so many people. So we had heard about it. and I think February was when we understood that this was probably leading to be a global crisis. and that's when we started hearing news about there being cases in Italy. The information that was presented to us this kind of little vague, just that there are cases of a flu-like virus that had been going around in Italy. The advice that was given to us is to make sure that we're not in like the super touristy, heavily populated areas for the time being.

Then I believe it was around February 23, we were supposed to play a match, and they canceled it the morning of. I think the team had already driven six hours to us anyways, I felt so bad. So that's when things started to get real. Then we resumed play behind closed doors March 7, but the next day, March 8, they suspended the league indefinitely.
How Trump's incomplete statement about banning all travel from Europe in his national address a couple of weeks ago impacted her:
My boyfriend calls me, and it is 2:30am, Italian time, and he is freaking out. He's like, "Trump just issued this travel ban. They're closing down the borders, etc, etc." It's 2:30 in the morning, I'm already disoriented, I'm freaking out. I'm looking at my phone, I'm getting all these messages and missed calls from people who are also trying to inform me of this. And I'm reaching out to other Americans who are also playing in the league, but obviously, everyone's asleep at this point.

But I basically stayed up for the rest of the morning. I remember having weights and practice that morning, and just trying to process everything. I think that day, although I hadn't made my final decision, I think that day I realized that for my health — whether that's physical or mental — I don't think I can carry on like this here.
Why it was so hard for Ogbogu to say goodbye to her team in Italy:
Right now, because the league has not been officially canceled, they're still preparing to continue on hopefully after April 3, I essentially terminated my contract.

But business aside, for me, it was difficult because I had really grown to love the entire organization that I played for, especially the players and the staff. And I knew that leaving, it wouldn't necessarily disrupt everything that we've been working on, but in a sense, it would, because we started the season with 14 players and having one or two players leave completely impacts the rest of the season.

I definitely had to weigh the business side of that as well. But for me, I think just being able to be with my family and my boyfriend during this time, and to be able to have more of a peace of mind was more valuable than the money at that time.
Biola Solace-Chukwu doesn't know if there will be a "next year"
This is a statement I received from a Nigerian sports reporter, worried she has lost her chance to cover tennis majors this year.
I'm a freelance Sports Broadcaster and Journalist in Nigeria and my niche is in tennis. 

I've always wanted to cover international tennis tournaments; Grand Slams, Masters and all, but it's been quite difficult because I'm from a country that focuses more on football and most media outfits don't think it's wise sending or sponsoring someone abroad to cover tennis. Traveling from Nigeria is also very expensive and it's been difficult raising funds on my own. 

My major goal this year was to cover at least one Grand Slam on my own bill and I had my sights on the French Open or Wimbledon. It doesn't look likely anymore with the outbreak of coronavirus and the suspension of the tennis season. 

Here in Nigeria, you have to apply for a visa months ahead, and you might get turned down still. 

Knowing that the rest of the season might be rushed, getting a visa quickly would be almost impossible for me. 

I've heard people say "There's always next year" but they don't really understand because that was my goal for this year. It means so much to me. This year looked like THE year! I've been planning this for a long time and as much as there's never a good time for an outbreak of such a virus, I feel like it chose the wrong year. LOL. 

I feel like my year would be less successful without it. 

I got married last year and we want to start a family soon. I worry that I might not have as much opportunity to travel when the babies start coming. 
Liv Paxton feels like she's lost her identity
I received this message from a female Division I track athlete, Liv Paxton:
I'm a Division I track athlete and a little over a week ago we got the news that out season had been cancelled. I wasn't all that surprised, I felt it coming a few weeks ahead of time as I'd been reading about what was happening in China and Italy. Basically now I'm isolating at home, not training for anything, not really knowing what to do. My coaches can give is some guidance, but there's nothing to train for. I run every day, just a lot less than normal. I'm really scared of hindering my immune system with heavy training, so I'm trying not to overdo it. Overall, I'm just kind of shocked and trying to process it. Stress doesn't do my body any favors so I don't feel good on any of my runs, my period still came but it was way lighter than usual, I'm breaking out, things like that. Plus there's no sports to watch on TV to distract me which might be the worst part. Not only can I not compete, but seeing how no one else can is awful.

I definitely feel like a big part of my identity is gone. I'm a student athlete, but now it's just student...and even that part is at home. Everything is so weird.
The debut of Maine's first pro women's sports team has been indefinitely delayed
The Professional Ultimate League was well on its way to launching its second season, and Portland Rising were ready to debut as one of its four expansion teams that would be competing against the eight original teams.
Rising co-owner Chloë Rowse sent Power Plays the following statement about how the franchise is handling this set back.
In a state celebrating its 200th birthday, with three pro men's sports teams, it's time to showcase more womxn on the professional level. Portland Rising is a professional womxn's ultimate team and New England's first Premier Ultimate League (PUL) franchise. The community is behind us, the city is behind us, and the athletes are incredible.Before the roster was announced publicly, the team had already begun practicing and preparing for its first season on the international stage. Rising represents an exciting moment in womxn's sports, and Maine's history, and our athletes don't take their roles lightly. On 3/7, player contracts were signed. The season was approaching and everything felt exciting and possible. In one week, everything changed.The PUL announced on 3/12 that the 2020 season was suspended indefinitely. Our athletes were crushed. It happened so quickly. The next few days though put into perspective the severity of the situation and the necessity to act.Although a devastating start to our first season, the health and safety of our athletes, fans, and the larger community is of the utmost importance.In a time of uncertainty, one thing we are certain of is that we will continue to RISE. This team is already so much more than this season's schedule. The Rising community and Rising energy that has grown over the past four months isn't going anywhere.

At the beginning of the season we asked ourselves, "when facing challenges, I hope we respond by embracing the opportunity of the challenge - where can we grow from this challenge?" This wasn't the challenge we had in mind. Will we RISE anyway?

Absolutely.
Ally Redig Athlete Relations is trying to focus on the positive
Ally Redig runs an athlete relations firm. She send Power Plays the following statement about how they're handling this unexpected situation:
I could go on about how we've lost opportunities to sign new clients or lost dollars in commissions, but I wanted to really highlight the positives instead. Our goal at Ally Redig Athlete Relations has always been to provide the best client experience, and despite the circumstances, our goal has not changed.

When we saw the severity of the situation, we first wanted to make sure our clients were home safe. From booking flights to renting cars— we sourced any mode of transportation necessary to get our clients home to be with their families and loved ones. We saw our clients drop everything to be with those that needed them most, which has been a huge source of inspiration.

Throughout the past few weeks, we have shifted our focus to make sure we are supporting our clients and their communities as they continue to spread positivity in this time of uncertainty. We have waived all fees related to giving back to those effected by the pandemic. We want to help as many people as possible and are encouraging our clients to use their brands and their reach to do the same. I've personally seen levels of patience, understanding and compassion from these guys that has been the "light" in all of this.

At the end of the day, we're still a small business. Losing any amount of income will effect us, that's just a fact. But I believe that by doing good and spreading positivity, we're making a much larger impact than any dollar amount could have done, so I know we will be okay.
Sports journalism student Haley McGoldrick feels like all of her work has been for nothing
I'm currently a sports journalism student in maybe the worst time to be one ever. I'm one of only three girls in my class. COVID-19 has completely put my non-existent career at a halt. I'm not in a typical program where you can continue being taught about cell structure of marketing fundamentals - the basis of our course material has been paused. It's frustrating because as a woman in a male dominated program it's already hard enough to try and be at the top of my class, which I have worked hard to do, but now it feels like all my work is for nothing. I know sports will return eventually, but as of right now, I just feel extremely sad and hopeless. So many opportunities I had to prove I deserved a spot more than anyone in my class, male or female, have been slashed. I know it'll blow over eventually, but for now it's disappointing.

I am so grateful for everyone who shared their stories with me over the past week. We're all in this together, and while we all certainly recognize that health is the most important thing, I appreciate that this is a safe space where we can all share our struggles, too.
Next week, Power Plays begins its new, expanded publishing schedule. Get ready for more stories from more writers. If you can, please support this work by subscribing.
Thank you, thank you, thank you.