On their own
"We sold our soul to the devil. And they saved us."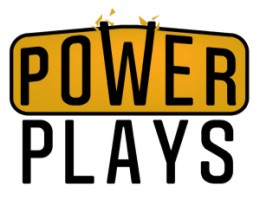 Hello, everyone, and welcome to Power Plays, a newsletter for those sick of excuses, and ready to see equality for women in sports. I'm the author and founder, Lindsay Gibbs, checking in after what has been an overwhelming stretch in so many ways.
In the women's sports world, we've had two dramatic WNBA semifinal series — the Seattle Storm overcame a covid scare and an overachieving Minnesota Lynx squad to advance to the finals, and the Las Vegas Aces have forced a deciding Game 5 against the Connecticut Sun, which will be played on Tuesday, September 29 at 7:30 p.m. ET on ESPN2.
The final two games of the inaugural Athletes Unlimited are tonight, Monday night, on CBS Sports Network beginning at 4:00 p.m. ET, and if you haven't checked it out yet, you should clear your schedule — the play has been sensational. The NWSL fall series has had its own covid issues and management and coaching controversies, but has also been producing some thrilling soccer and viewership numbers.
Plus, we've had the U.S. Open wrap up with Naomi Osaka winning her third major, the French Open is already underway (!!!), and Mirim Lee won the ANA Inspiration in a nail-biting three-way playoff.
Considering how concerned I was about how the pandemic would impact women's sports, the non-stop action over the past month has been a relief and a treat. (Even though I continue to be concerned about any sports being played during a pandemic.)
Of course, these sporting moments haven't happened in a vacuum. The past couple of weeks have been excruciating. On September 18, Supreme Court justice Ruth Bader Ginsberg died at the age of 87. On September 23, a grand jury returned zero charges against three Louisville police officers for the murder of Breonna Taylor.
Through it all, women — primarily Black women — in sports have continued to be on the forefront of the fight for racial justice and gender equity, while attacks on sports reporters Maria Taylor and Katie Nolan have served as a stark reminder that a woman's mere existence in the sports world is still something many men with microphones view as up for debate.
Personally, I've been dealing with some family issues that took my time away from Power Plays, and I greatly apologize for not communicating with you all more clearly about that; the developments were sudden and kept snowballing. But things are settling down, I'm getting back on track, and I can't wait to share the stories that I have in the pipeline. Starting today, I'm easing back into a Monday-Wednesday-Friday posting schedule, just in time to mark the 50th anniversary of one of the most pivotal moments in sports history.
Okay, friends. Let's do this.
The 50th anniversary of the day the Original 9 changed everything
September 23, 2020, marked the 50th anniversary of the day nine women's tennis players, including Billie Jean King, signed $1 contracts to launch the Virginia Slims Circuit.
This newsletter might be familiar to a few of you — it is repurposed from the fourth edition of Power Plays. But because Power Plays has grown so much since then, I thought it was more than worth re-upping.
For some extra information on the historic moment, I highly recommend Tumaini Carayol's piece on the trailblazers over at The Guardian, this photo editorial by the WTA, this oral history by Sports Business Journal, and these two Original 9-related podcasts by No Challenges Remaining.
I also LOVED the way that WTA players past and present marked the occasion — the top seeds at WTA Strasbourg recreated the iconic photo of the Original 9, complete with masks, because 2020; the WTA produced a great video in celebration; and many stars posed with one dollar bills and sent thanks to their founding mothers.
Last year, I wrote about the Original 9 after Ash Barty won a record $4.4 million when she won the WTA Finals in Shenzen, the largest payday in tennis history, men's or women's. The entire prize money available at the event was $14 million.
Here's that newsletter, which has only been slightly edited. It includes an interview with one of the Original 9, and a lot of archival gems, and I hope you enjoy revisiting it as much as I did.
"I think I could have envisioned $1,400"
A quick primer, for those unfamiliar with the origin story: The WTA was founded in 1973, but its precursor was the Virginia Slims Circuit, which began in 1970 when nine women's tennis players signed $1 contracts to mark their separation from the established tennis organizations, which were not prioritizing women.
Those women are referred to as the Original 9.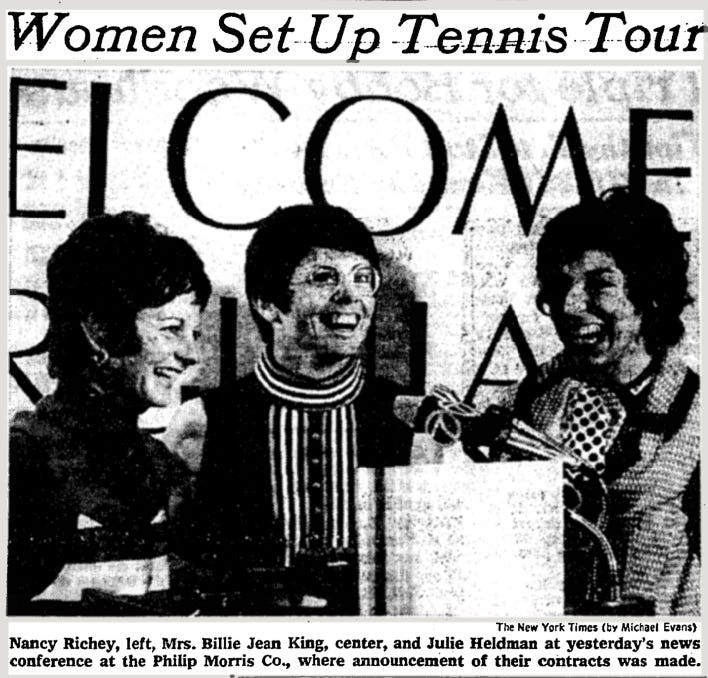 [Last November], I spoke with Julie Heldman, a member of the Original 9 and author of Driven (A Daughter's Odyssey).  When I asked her whether she dreamed of $14 million [50] years ago, when she signed that $1 contract, she laughed. 
"I think I could have envisioned $1,400," Heldman said. "Fourteen million was not in my wheelhouse. It was not anything I knew."
"The men wanted their own tournaments"
Tennis was historically a sport where men and women played the same tournaments. But when the sport clumsily moved from an amateur to a professional model starting in 1968, women were left behind.
"By the middle of 1970 there were almost no tournaments available for women professional players," Julie said. "The men wanted their own tournaments. The men players didn't want the women there, even though there had been decades of joint tournaments. And it was getting worse."
She said men's tennis players — even ones that are highly-respected figures, known for their upstanding character — would, quite literally, tell their female counterparts to get back in the kitchen. 
"It was the living out of prejudice," Julie said. 
When there were joint tournaments, the pay gap between men and women was astronomical. Things hit a tipping point in 1970 when Jack Kramer announced the prize money for the Pacific Southwest Championships would be 12:1 in favor of the men.  
Billie Jean King and other greats of the time approached Gladys Heldman, Julie's mother, who ran the successful World Tennis Magazine. They needed her help. Gladys — an absolute powerhouse — organized a nine-player Houston Women's Invitational, and brought Virginia Slims on as a sponsor.
"You've heard of women's lib. This is women's lob."
At first, it seemed the women would have the support of the U.S. Lawn and Tennis Association (USLTA — which today, is just the USTA). But at the last minute the organization changed its mind, and said anyone who played the Houston Invitational would be suspended from the USLTA.
"They said, 'Well, you women can have a tournament, but it'll have to be an amateur tournament and you can take money under the table,'" Julie said.  "That was their idea how to deal with us. So it became clear that we were on our own. The association that was supposed to be managing us was harming us."
(Emphasis mine. If you read the first issue of Power Plays, that refrain will sound awfully familiar.)
Some women's tennis players were too afraid of the consequences to participate in the Houston tournament. But the Original 9 stood strong, and prior to the tournament, they signed $1 contracts with Gladys. The USLTA suspended them the next day.
"I hope you will agree that the women are not fighting the USLTA," Gladys Heldman said at the time. "They are just protecting themselves. You've heard of women's lib. This is women's lob."
"The USLTA needs the girls more than the girls need them"
From there, the Virginia Slims Circuit really took off. Julie admits that there was a level of destiny to it all. They had what she calls "The Holy Trinity:" Gladys, Billie Jean King, and Virginia Slims. 
Her mother was an expert saleswoman and absolute workhorse who had relationships with so many in the business and tennis community because of her work at World Tennis Magazine. Billie Jean King was a charismatic, outspoken, fearless star who won everything in sight and wasn't afraid to take on the Powers That Be.
"There's no trouble for us," King said in 1972, during another dispute between the USLTA and the women's circuit. "The USLTA needs the girls more than the girls need them."
Virginia Slims made it all possible, though. In 1970, the government banned cigarette ads on television and radio. So the company needed a new place to invest its marketing budget. It was controversial; everyone knew how dangerous cigarettes were at the time. But — and yes, I do recognize the irony of this statement — it was a lifeline for women's tennis.
"We sold our soul to the devil," Julie said. "And they saved us."
"It's the best thing that could have happened to us"
So, how did this all go over? Well, this is where it gets fun, and we get to look through the archives.
As this New York Times article from January 17, 1971 shows, the USLTA did not handle it well!
"Women's Lib may be fine along Fifth Avenue, but Women's Lob, as the new professional tennis tour has become known, will not dictate policy to the United States Lawn Tennis Association, an official said yesterday.

"We have no intention of letting the girls dictate demands to the USLTA," declared Walter E. Elcock of Brookline, Mass., the first vice president-elect of the association . "If they continue to disrupt our tournaments, it will be our policy to bar the girls from the championships like the United States Open until they get in line."
"Get in line" they did not.
Over the next couple of years, the Virginia Slims circuit soared. Eventually, the USLTA tried to establish their own women's circuit, and in 1973, Billie Jean King formed the WTA and all the women became united under one body. (This is a very rushed summary, of course. I recommend Heldman's book — which also details her complicated relationship with her mother and her own struggles with mental illness — for a far more detailed account.)
But my favorite article from this "rogue" time comes from the NYT on February 14, 1971. I think it really sums up the spirit of the entire movement, and the impact it had. It begins with a very understated headline.

It opens up with the predictable framing: You thought ladies were just pretty, but they can sports and lead as well! Wow!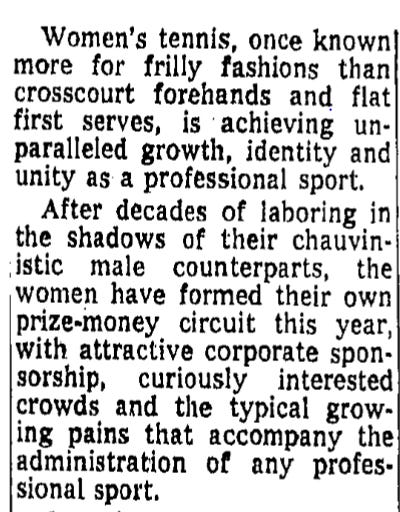 Then it describes how the men were absolutely dumbfounded at the success the women were having without them.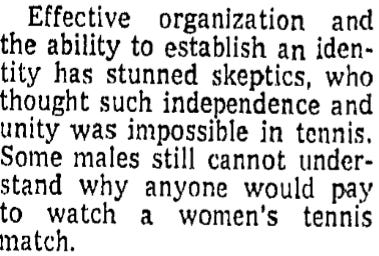 Absolute perfection.
Then, the article includes one of my favorite Billie Jean King quotes of all-time, where she doesn't mince words when stating that the women going out on their own was the best thing that ever happened to them.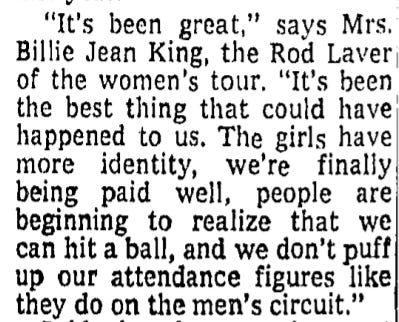 I really, really want to frame that. (Power Plays merch, anyone?! Too soon?)
Collective action and solidarity is the only way forward for women's sports
Okay, so why did I take you all on this trip down memory lane, besides the fact that it was a blast?
Well, it's because I spend a lot of time thinking about what the best way forward is for women's sports, and, based on the many wonderful emails I've received since launching Power Plays (thank you!!), you all wonder about this, too.
The obvious answer here seems to be: Leave the men in the dust. Claim your independence.
And sometimes I think it truly is that simple. I have serious doubts as to whether the WNBA will ever reach its full potential under the auspices of the NBA, and the NWSL is already moving away from U.S. Soccer and to a much more independent model so that it can take the next step — you know, the ones that will take it from sustainability to outright success.
At the same time, women's sports without that institutional support — such as softball and hockey — haven't fared as well. (Though their models are more than worth exploring; and trust me, we will.)
Plus, women's tennis has undeniably benefited from the fact that its most high-profile tournaments are joint tournaments with the men, even after the WTA was formed. And there are other reasons that, unfortunately, help explain why women's tennis has been easier for a male-dominated power structure to market and embrace: The "uniforms" usually conform to traditional ideals of femininity, and its predominately a white, wealthy sport.
Given that, I remain on the fence about whether complete independence is the best thing for women's pro sports.
But I feel confident saying that the solidarity shown by the Original 9 is the only way for women's sports to truly move forward. We've seen significant labor movements in women's soccer and women's hockey over the past couple of years, and that organizing is, hopefully, only the beginning.
Collective action by athletes in women's sports is the only way progress is possible, whether or not it results in independence.
Of course, I asked Julie if she thought the WTA would ever have reached a $4.42 million payday if the Original 9 hadn't gone rogue, and left the USLTA in the dust for a couple of years. 
"I think what you're saying is, 'How do you do this working within a male structure?' And the answer is, 'You can't,'" she said. "How the hell do you get out of it?"

Thanks so much for reading Power Plays, friends. It's free to sign up, but paid subscribers get extra perks, like access to the Power Plays Slack channel, and subscriber-only posts.
Your support means the world, and I love being back in your inbox. See you on Wednesday!
-Lindsay