The luxury behind Serena's legacy
(And many other Australian Open thoughts.)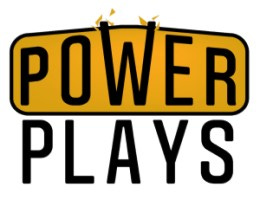 Hi friends. It's Lindsay. Happy Friday! Thanks for spending so much of your week with Power Plays. I'vs been intruding on you a lot, I know. This week alone we've looked at what the data says about gender inequality in sports; why women don't have to compete against men to prove their greatness; and the story behind the Tennessee/UConn rivalry, including the lessons we can learn from Pat and Geno.
Today? We're going to have some fun, and talk about the tennis.
But first: I will be in Hartford, Connecticut on Sunday and Monday for the USA Basketball vs. UConn game on Monday night.
There will be a Power Plays meet-up there, and I am so excited to meet some of you! I'll announce the details at the top of Monday's newsletter, so keep an eye out. In the meantime, if you have any ideas about the best time/location of the meetup, please let me know: lindsay@powerplays.news.
Okay friends. Let's do this.

Australian Open madness
The first Grand Slam of the tennis season is underway in Melbourne at the Australian Open, and Day 5 was the day that everything happened. I mainly want to talk about these three matches, though:
No. 27 Wang Qiang (China) d. No. 8 Serena Williams 6-4, 6-7 (2), 7-5.

Ons Jabeur d. Caroline Wozniacki 7-5, 3-6, 7-5.

Coco Gauff d. No. 3 Naomi Osaka 6-3, 6-4.
Serena Williams, the favorite, was upset in the third round, as was her dear friend, Caroline Wozniacki. For Williams, this marks the end of her quest to get her 24th major. And for Osaka, this ends the dream of a title defense. There's a lot to digest.
The importance of Serena's origin story
Let's get a few things out of the way about Serena, right here and right now: She owes us nothing. Margaret Court's record of 24 majors is meaningless. Serena Williams is the best tennis player of all time. If she never plays another tennis match, that will still be true. If she never wins No. 24 — which, let's be real, she might not! — it doesn't diminish her legacy in the slightest.
Don't get me wrong — we're super lucky that she wants to get No. 24, and therefore, we get all these bonus years of watching her compete her heart and soul out on the court. We should absolute relish every single second of it.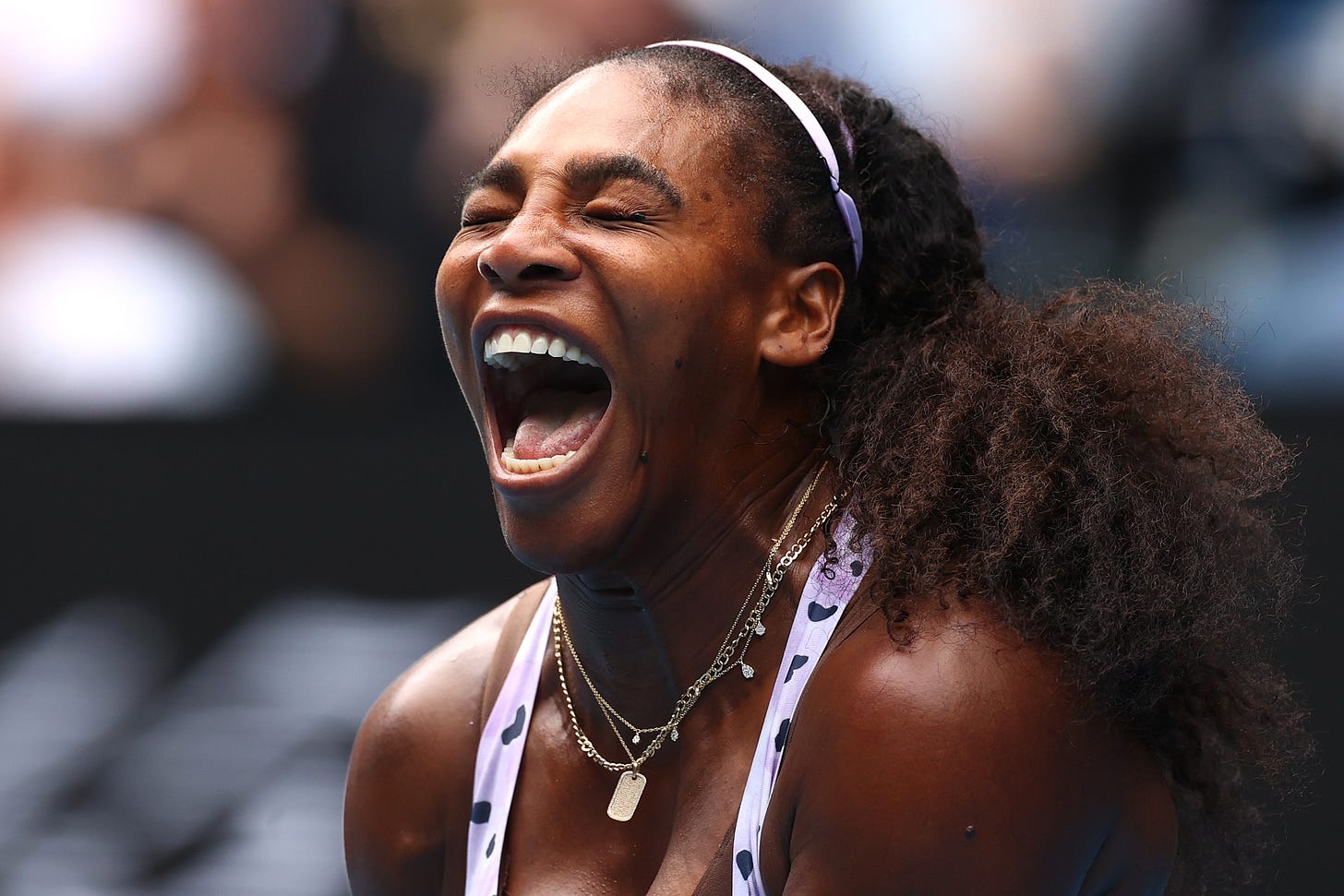 (Serena Williams; Getty Images)
But Serena's legacy isn't 23 or 24 or 25. Her legacy is her longevity and her fight. Her legacy is how women's tennis today is deeper than it's ever been. Her legacy is in powerful serves and laser-like forehands you see across the tour, and in the ways players have developed their defense and returns and variety to counter them. Her legacy is her advocacy and her celebrity and the many young black women who are major contenders these days, from Osaka to Sloane Stephens, Madison Keys to Coco Gauff.
Watching Serena battle against Wang last night, I couldn't stop thinking about the origin story of the Williams Sisters. Serena and Venus's father, Richard Williams, was flipping through the channels in the late 1970s when he saw Romanian tennis player Virginia Ruzici defeat Argentinian Ivanna Madruga in the final of a low-level WTA tournament in Salt Lake City, Utah. Richard was awestruck by the fact that Ruzici was given a $40,000 check just for a week of tennis. He decided, then and there, that he would have more daughters, and that they would be tennis players.
So much has been written about Richard's genius plan, and the way he executed it to perfection. But I don't know that we've focused enough on what inspired him to have the plan in the first place — a women's tennis tournament was being played on television, so he could just channel surf and land on it, both accidentally and serendipitously. And the players were earning enough money to make him do a double take, to make him believe that tennis was a sport that was practically worth pursuing.
I can't help but wonder, how many Serenas or Venuses have we missed out on in various sports throughout the years because the athletes that came before them didn't have any television exposure, and didn't earn enough money playing their sport to support themselves, let alone live a lifestyle worth striving for?
Serena is one of a kind. We might not ever see another athlete as dominant as she has been for more than two decades in any sport, ever. But in so many women's sports right now, there's not even the possibility of a Serena, because female athletes have to spend their peak years fighting for their sport's survival, often plucking away in obscurity.
Tennis had a foundation before Serena. The Billie Jean Kings and Martina Navratilovas had built up a Tour worthy of a superstar like Serena. That doesn't mean it's been easy for Serena, or that tennis doesn't still have a long way to go until there's true gender equality. But Serena didn't have to build the stage; once she fought her way onto it, the spotlight was already in place.
I hope in the very near future, more female athletes get that luxury.
I miss you already, Caroline Wozniacki
Caroline Wozniacki's tennis career has come to an end, and I'm much more emotional about it than I expected to be. Here are a couple of tweets from my friend Tumaini that help sum up her greatness, and one of my favorite off-court Wozniacki moments.
Appreciating Ons Jabeur and Qiang Wang
So many people wanted Wozniacki and Serena to face off in the fourth round, and I get why; they're best friends, both Hall of Famers, and it would have been a great story and match. But that doesn't mean the match we get instead isn't worth watching.
As the great Reem Abulleil says, there's still plenty left to root for.
By beating Wozniacki, Jabeur became the first Tunisian — man or woman — and the first Arab woman to make it to the fourth round in singles of any Grand Slam. That is HUGE. Her game is so much fun to watch, full of trickery, guile, and power, and her personality is even better.
Abulleil has done phenomenal reporting on Jabeur's rise, and the significance she has both in her home country of Tunisia, and throughout the Arab world. She knows she represents more than just herself, and sees it not as a burden, but as a sense of pride. Seriously, read this piece, I promise you'll be a Jabeur fan.
This? It's incredible:
She'll play Wang Qiang, who played the match of her life to take out Serena Williams. It really seemed like Serena was going to be able to take control of the match when she came back from a break down to win the second set. But Wang didn't go away — despite the fact that last time she faced Serena, in the quarterfinals of the 2019 U.S. Open, Wang only won one single game.
WTA Insider has a great primer to get to know Wang, who is the Chinese No. 1. (Feel free to call her "Q.")
Two things about Wang's story that stick out: Even after being humiliated by Serena at the U.S. Open last year, she didn't hang her head in shame. She went back to the drawing board, got stronger, and came out to this match with a much better mindset and with belief in herself. It takes guts to take down a legend, and Wang had some to spare.
Also, last year Wang's former coach, Peter McNamara, died of cancer at the age of 64. The two were incredibly close, and he believed in Wang's game and mental strength long before anyone else did.
He was an Australian tennis legend, and it was fitting that on the night she had the biggest win of her career, there was a tribute to McNamara at the Australian Open.
Coco Gauff is miraculous
I honestly don't have words to describe what we're seeing from this 15-year-old. Naomi Osaka played horribly in their third-round match, but it still took an incredibly mature performance for Gauff to oust the defending Australian Open champion in her Australian Open debut.
Watch this post-match interview, if you haven't yet. It's the best.

From the Archives: The Australian Open's equal prize money fight
Before I go, I wanted to take a show you two articles about the fight for equal prize money at the Australian Open. The first one is from The Age on February 15, 1983, when the Australian Open first announced it would offer equal prize money. At the time, the only other major tennis tournament to do that was the U.S. Open.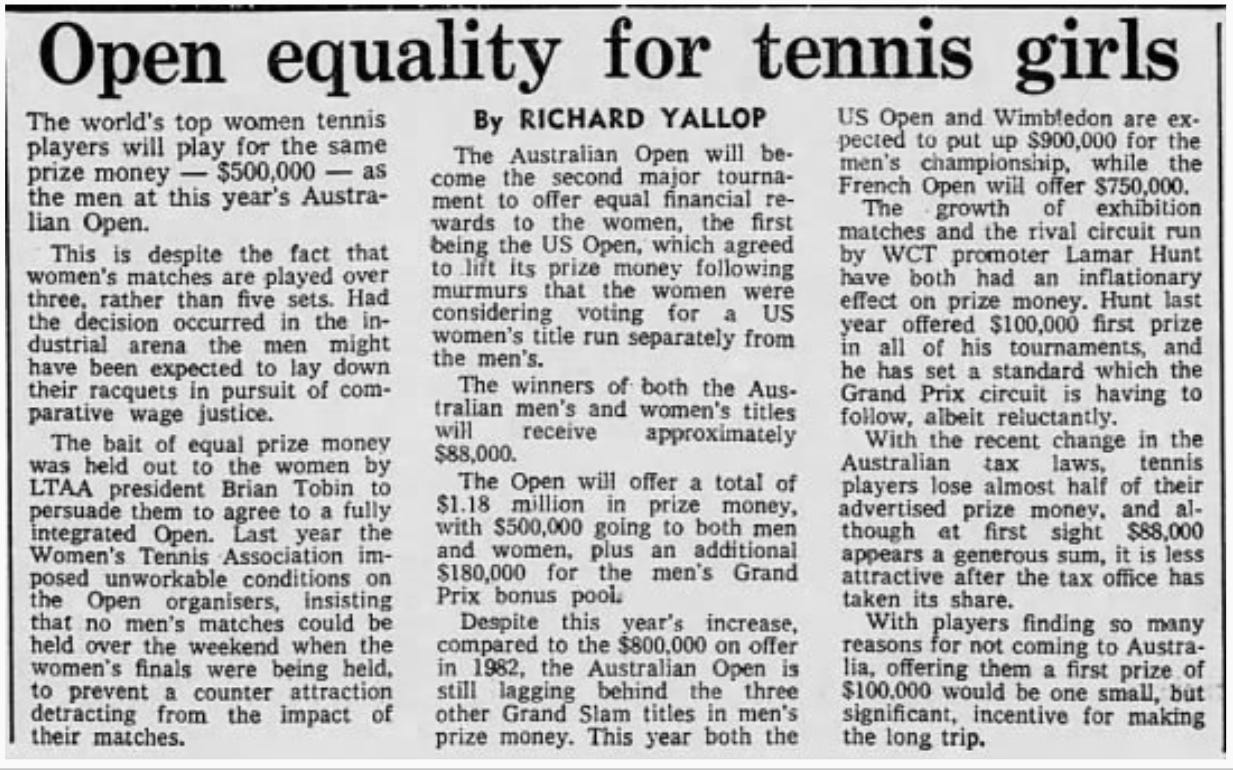 But then, in 1995, the organizers at the Australian Open decided to take away equal prize money!! As this Los Angeles Times article on November 12, 1995 explores, the WTA players were not happy about this, and there was talk of a boycott.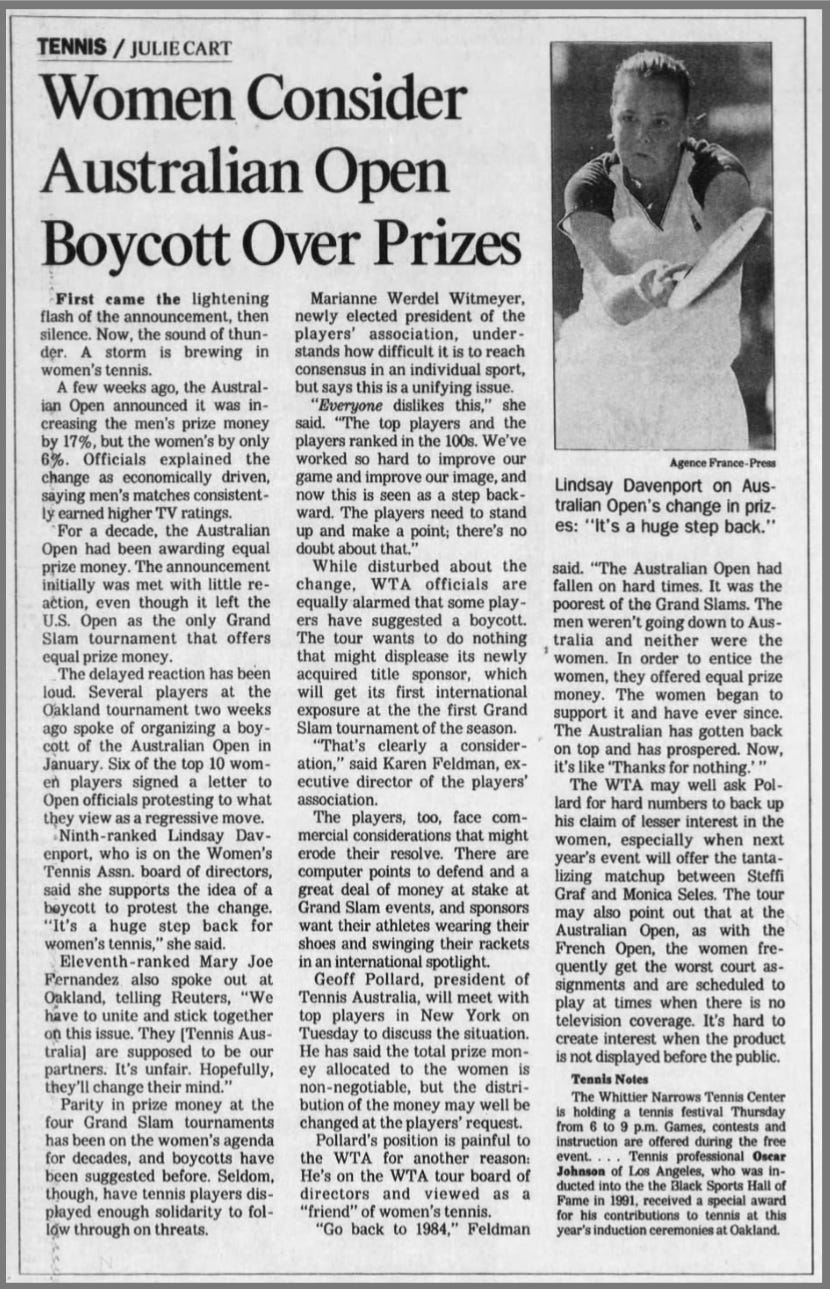 Ultimately, there was no boycott, though the players continued to speak out against the injustice. In 2000, the Australian Open finally went back to equal prize money for good. The French Open followed suit in 2006, and finally Wimbledon came aboard in 2007.

Okay, friends. That's plenty from me this week. Have a fabulous weekend, watch some tennis if you can, and I'll be back on Monday.