The Quest for 33%
Plus: Remembering two legendary LPGA players.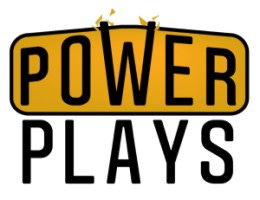 Hello, everyone, and welcome to Power Plays, where we serve sports takes without a trace of toxic masculinity. It can be done!
In case you missed it, on Tuesday I made a big announcement: I am finally going to start Power Plays subscriptions. I'm excited, terrified, and overwhelmed — in a great way — by all the support I am receiving so far.
There are so many exciting things in the works, and I'll be able to make a couple of those announcements in tomorrow's newsletter.
But today, I'm going to take you through some new #CoveringtheCoverage initiatives, and announce The Quest For 33%.
Then, in the archives, we're going to look back at the careers of two legendary golfers — Mickey Wright, who just passed away this week, and Althea Gibson, a tennis legend who also became the first black golfer in the LPGA.
Remember, please spread the word if you can. Every single sign-up, every single tweet, every single in-person conversion is invaluable to me, especially right now. It's a pivotal time for Power Plays.
Okay friends, let's do this.

#CoveringtheCoverage: The Magnificent Seven
Last week I officially unveiled our #CoveringtheCoverage initiative by focusing in on how mainstream media was covering WNBA Free Agency. I am going to continue to monitor newspapers and television and the internet to analyze the coverage of important moments in women's sports; I think we can learn so much by doing that.
But we also need a baseline.
So, for at least the next six months — through the Tokyo Olympics — I'm going to monitor seven print newspapers for their coverage of women's sports. Every day, I'm going to tally the women's sports stories in the Wall Street Journal, New York Times, USA Today, Washington Post, Dallas Morning News, Chicago Tribune, and Los Angeles Times.
(Yes, I'm sorry, this subhed actually had nothing to do with the true Magnificent Seven, that's just me pulling out the tricks.)
Why those seven? Well, the WSJ, NYT, and USA Today are, by most calculations, the most widely-circulated print newspapers in the country. And WaPo, DMN, LAT, and the Tribune are all popular newspapers in their own right, and even more importantly for this exercise, are located in four big markets that have prominent women's sports teams nearby, in college and in the pros.
If I had unlimited time, there are about 20 other newspapers I would like to monitor on a daily basis. But I'm one human being, and this is a start.
My week in the sports pages
Here's a snapshot of what I'm doing. From February 13 to February 19 I looked at the sports pages of 45 newspapers. (USA Today and the WSJ both only have five print editions per week.)
These sports pages varied widely in length and content. The WSJ only has one or two sports stories per day in their one-page sports section, and the NYT and USA Today both averaged about seven stories per day. On the other end of the spectrum, WaPo averaged 20 sports stories per day during this week, and the LAT, Tribune, and DMN were all in the 18-20 per day range. You can read my methodology if you scroll down to the next section, but before I totally bore you, I figure we should see some numbers.
Here's how these seven papers fared in their coverage of women's sports over the last week:
Dallas Morning News: 13.95% (18 of 129)

Washington Post: 12.85% (18 of 140)

New York Times: 9.78% (4.5 of 46)

Los Angeles Times: 8.27% (11.5 of 139)

USA Today: 4.28%* (1.5 of 35)

Chicago Tribune: 3.17% (4 of 126)

Wall Street Journal: 0% (0 of 9)
NOT GREAT!!
One of the rare women's sports stories to crack the front page was an article about Kim Clijsters' return to tennis, which was in the New York Times on February 18.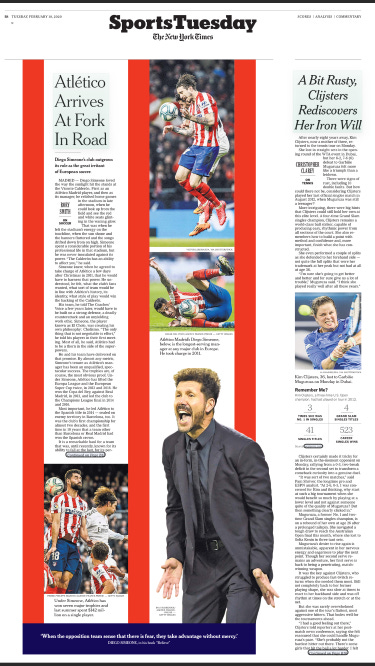 My methodology
Looking at the numbers above, you might see some decimal points and be close to giving up on me entirely. But I promise there is a reasonable explanation!
Many newspapers have sections that are simply round-ups of stories, with a bunch of nuggets that are like 100 words or less. For the sake of counting the total number of stories in each sports section, I would count an entire round-up as one story. If even just one of the stories in the round-up was about women's sports, I gave the paper 1/2 of a point. (If all the stories were about women's sports, of course, I would give full credit.) It's not an exact science, but this seemed like the fairest way to do it.
I also kept separate track of how many women's sports stories were featured on the front page of sports sections. If a paper just teased a women's sports story on the cover — put a headline, then directed readers to the page to read the story — I gave that 1/2 a point.
This past week, there were four women's sports stories that made it to the front page of our newspapers. Of course, Sabrina and the Oregon Ducks were one of the cover stars.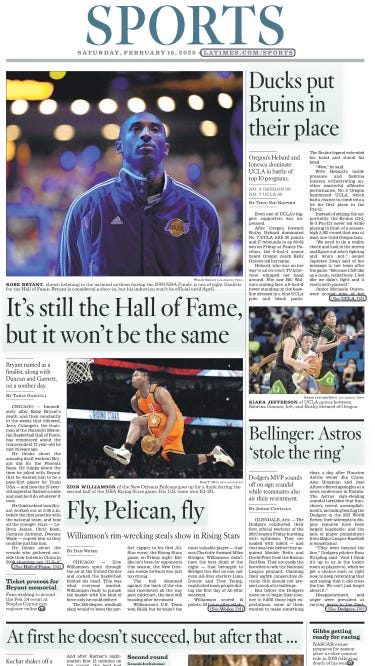 I want to note that I was generous with my counting. One story I counted from the NYT was about the female choreographer of JLo's ridiculously amazing Super Bowl halftime show, because I maintain that JLo's performance was an athletic feat. And, there was a story about the West Virginia governor calling a girls basketball team "thugs." That counted too, unfortunately.
The Quest for 33%
While the highest any paper got over the week-long period was 13.95%, there were individual days where papers fared much better.
On February 18, the Washington Post hit 28.13%, with four stand-alone articles on women, including Emma Meesseman re-signing with the Washington Mystics, UConn women's basketball falling to No. 6 in the AP Top 25 poll, girls high school basketball, and the USWNT roster for the She Believes Cup.
(WaPo also featured a story about the Maryland women destroying Iowa to take control of the Big 10 on its front page on February 14.)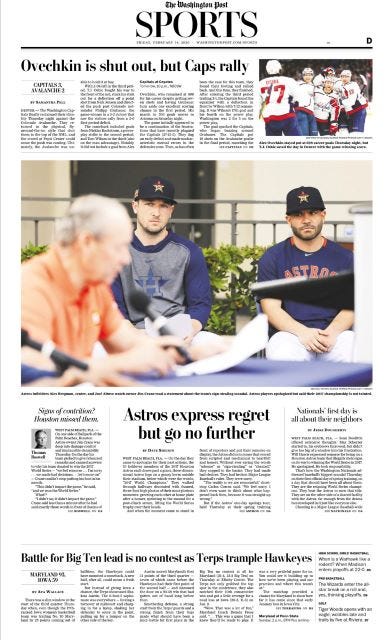 On February 15, 23.53% of the Dallas Morning News' coverage was about women's sports, including stand-alone articles about a high-school swimmer, Kim Mulkey and Tamika Catchings making it to the women's basketball Hall of Fame, and Katie Lou Samuelson getting traded to the Dallas Wings. The Morning News also did well on February 18, when 21.88% of its stories had women
The New York Times hit 20% on February 18, when one out of its five sports stories was a feature on Clijsters' return to tennis.
This brings me to The Quest for 33%.
I've said before that I'm not asking for equality for women's sports coverage overnight; considering there are so many more male pro sports teams than women's pro sports teams today, it isn't a practical ask at this time.
Right now, I'd like to see the coverage of women's sports reach 33%. Everywhere. Sports talk shows, internet sports sites, newspapers, the radio. Everywhere. Yes, for some, this is a stretch goal. After all, its said that women's sports only get about 4% of all mainstream coverage right now. But I also firmly believe that within the next four years, 33% is a completely attainable goal, especially if the Powers That Be start now.
If you host a sports radio show, challenge yourself this week to add one topic about women's sports to the rotation every day. If you produce a show such as Around The Horn — which has made great strides, and is one of my favorites — start by making sure that two topics each day are about women's sports.
If you are an editor for a newspaper, see if you can switch out one of the five stories you are running about the MLB scandal for a story about your local college women's team. Just start with one!
The Washington Post was just one story away from hitting 33% last week! It can be done.
I need your help
I can't monitor everything, obviously. If you're interested in helping out with #coveringthecoverage or any other women's-sports related research projects, please email me, lindsay@powerplays.news. (And if you've emailed me about it before, I'm sorry, please reach out again.)
Keep an eye on your local papers, on the radio shows you listen to, on the home pages you visit. Take tallies. See if anyone hits the 33% threshold. And share the successes and failures with me, either at coverage@powerplays.news, or by using the hashtag #coveringthecoverage on Instagram.
There is so much power in accountability. Let's harness it.

From the archives: Remembering some LPGA legends
This week, Mickey Wright, one of the best female golfers in history, died at the age of 85. You can read more about her in this great NYT obituary, but I wanted to use the archives to take a look back at her career.
Here's an article from when she was named the AP Female Athlete of the Year in 1963.

And here's another article from the NYT on February 16, 1969 — almost 51 years, to the day, before she passed away — about one of her comebacks to the LPGA.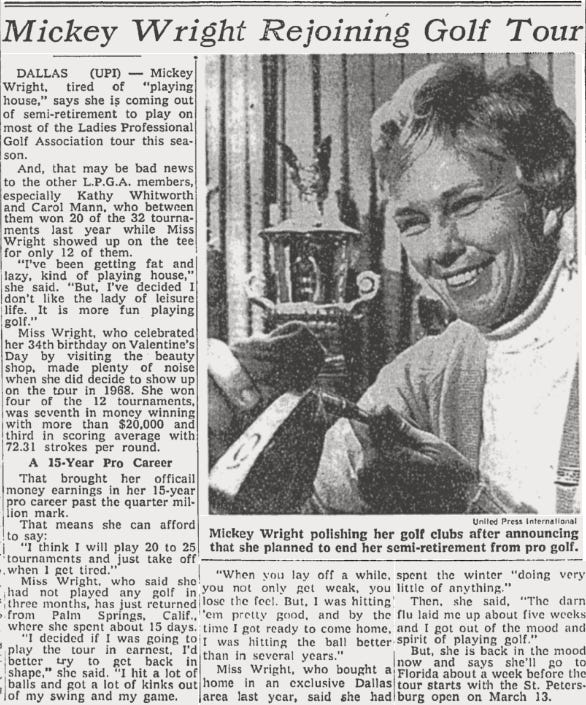 Since it's Black History Month, I'd be remiss not to take this time to remember another LPGA pioneer, Althea Gibson, who competed against Wright. Most know Gibson for her trailblazing tennis career, but she also became the first black LPGA player. Here's a story about her drive to play in the LPGA, written in 1962.


That's all for today. I'll be back tomorrow with a story that I actually think will make you quite hopeful for a change. Can't wait to share!
Thanks for your continued support.