The Storm Way
Meet the WNBA team owners who deserve our attention.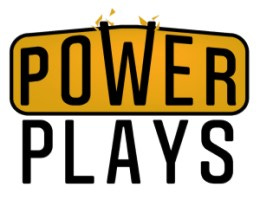 Hello, all, and welcome to Power Plays, a no-bullshit newsletter about sexism in sports, written by me, Lindsay Gibbs.
The WNBA Finals are in the books, and the Seattle Storm are your champions! We will have a big #CoveringtheCoverage: WNBA Playoffs Edition update in a couple of days, and I've got an interview coming this week just for paying subscribers, but first I wanted to focus the spotlight on a few women who you might not be familiar with, but who made the Storm's championship possible.
A friendly that you can sign up and/or subscribe to Power Plays using the button below. This is an independent venture, made possible by readers like you. Thank you, thank you, thank you.
Okay, friends. Let's do this.
The Seattle Storm's all-female ownership group is paving the way
Let's face it: The Seattle Storm's 92-59 trouncing of the Las Vegas Aces on Tuesday night was low on the nail-biting drama that fans (or, at least, this fan) crave in high-stakes games, particularly when a championship is on the line.
But thankfully, it was filled to the brim with the players and coaches and storylines that have made this unprecedented season so unforgettable.
It was amazing to watch the Aces' 24-year-old A'ja Wilson, the league MVP, and the Storm's 26-year-old Breanna Stewart, the Finals MVP, battle it out. I was thrilled that Angel McCoughtry was on the court in the final game of the season, since the Aces wing player was the one who spearheaded putting Breonna Taylor's name on the back of jerseys this season. I felt blessed to still be watching Sue Bird, who is still setting record, and somehow more importantly, was an integral part of the WNBA Players Association executive committee that helped negotiate the WNBA's historic new collective bargaining agreement, and helped work with the league to make this #wubble season possible. These are the players and the stories that have, quite rightly, made headlines all season.
But I'd like to shift your focus to the six socially-distanced, masked-up women that the ESPN camera panned to briefly during the Storm's on-court post-game celebration. While their names aren't quite as familiar to the casual WNBA fan, their impact on this season, and the league as a whole, is undeniable.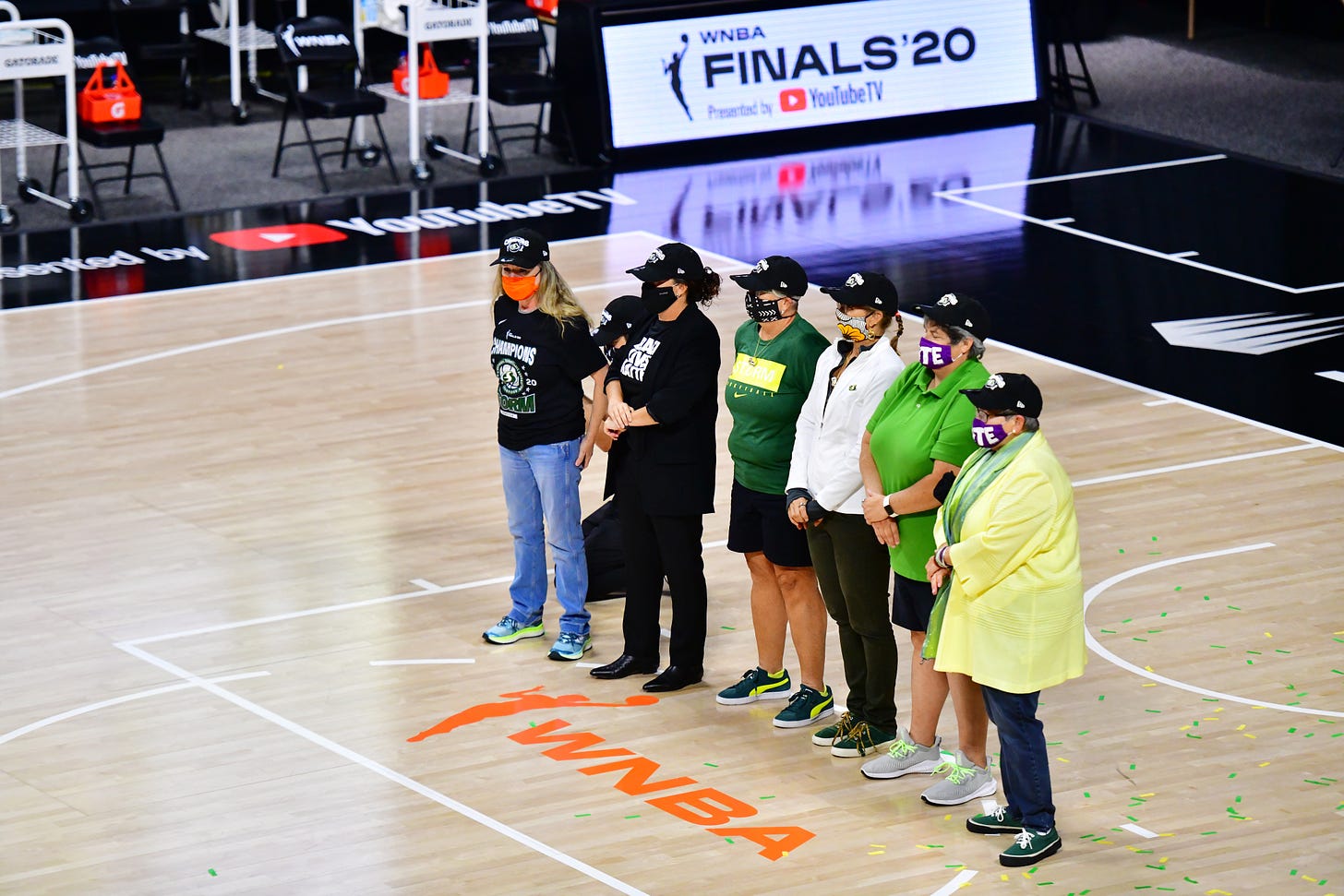 (The Seattle Storm ownership group; pic via Getty)
The women in question are the three co-owners of the Seattle Storm: former Olympic rower Ginny Gilder, and former Microsoft executives Dawn Trudeau and Lisa Brummel; Gilder's wife, Lynn Slaughter, and Brummel's wife, Celeste Keaton; and Storm CEO and general manager Alisha Valavanis.
[NOTE: If you want to know more about Gilder, I interviewed her for a subscribers-only post for Power Plays last month, and we read her memoir for our book club. In the interview, she talks about her history as a Title IX trailblazer, growing the WNBA, and ending homophobia.]
Gilder, Trudeau, and Brummel make up one of just two all-female ownership groups in the WNBA. Their counterparts in that category, the two women who co-own the Atlanta Dream, have courted attention for all the wrong reasons this season, exactly three months ago, the day after the players arrived at the IMG campus to begin quarantine.
So, it was fitting that the season ended with the Storm owners covered in confetti and posing with the trophy. Because I truly believe they have paved the way forward for pro women's sports.
The Seattle Storm organization was founded back in 2000, and was initially under the same ownership as the NBA's Seattle SuperSonics. In those early days, Gilder, Trudeau, and Brummel were die-hard fans of the team and season-ticket holders. So in 2007, when new owner Clay Bennett made it clear he planned to move the SuperSonics and the Storm to Oklahoma City unless he got a new arena deal with the city of Seattle, the successful businesswomen began brainstorming ways to keep their beloved Storm at home.
When the Storm hosted the All-Star Game in 2017, I travelled to Seattle and profiled the ownership group for ThinkProgress. Here's an excerpt from that feature, describing what makes them different from typical team owners, besides their gender:
[In 2007, Brummel, Gilder, and Trudeau] took a leap of faith, in each other, in the city of Seattle, and in the future of women's basketball, and came together to form Force 10 Hoops and buy the team. (There was originally a fourth owner, Anne Levinson, but she left the ownership group in 2010.)

But before they did, they decided that they were going to do things a bit differently.

"We had a very big meeting in Dawn's office at Microsoft just to figure out where we were in terms of values and why we're doing this," Gilder said. "We really made sure we were aligned in the philosophical point of view."

In that meeting, the three didn't just form a partnership; they invented what they call "The Storm Way" — a mission statement at the unique intersection of business, sports, and social justice.

While they all believe that taking over the team was a good financial investment, and are partly in this to make money, they also own the Storm because they believe in empowering women and in equal rights for everyone, no matter their gender, race, or sexuality. They say that's a core tenant of who they are.
In the past 12 years, the trio has helped steer the Storm into standard-bearers for the league.
The Storm have won three WNBA championships (2010, 2018, and 2020) since Force 10 Hoops bought the team, which is the second-most in the league during that period. While the Storm have certainly got lucky in the draft — (I know "luck" is a no-no word in sports, but when you have Sue Bird as a base, and then get to add Jewell Loyd and Breanna Stewart as No. 1 picks in back-to-back years, you've been dealt a decent hand) — the owners have worked hard to make Seattle a place where superstars are comfortable staying, and where all talent can thrive.
Off the court, the entire world truly saw what "The Storm Way" was all about in 2017, when Seattle became the first sports team to partner with Planned Parenthood. While the federal government was mobilizing its power to attempt to defund the health care provider, and politicizing and polarizing its very existence, the Storm picked a nationally-televised game to serve as a fundraiser for the organization. They raised about $50,000 via ticket sales and an auction, and held a powerful pre-game Stand With Planned Parenthood rally, where multiple people spoke on a stage about what the organization meant to them.
I covered the game and rally, which took place the same week as the All-Star Game, and I'm so glad I was able to see it in person, because the speakers at the rally were fiercely unapologetic about what Planned Parenthood meant to them. One long-time Storm fan, Alana Edmondson, told the crowd that she had gotten an abortion that very morning.
"Doing the procedure is claiming ownership of your body, and claiming ownership of the word — kind of takes away its power and shifts it a little bit back into our hands," Edmondson told me after her speech.
The Storm owners did not require any of the players or coaches to participate in the fundraiser or rally or shoot PSAs. But the team's biggest two stars, Bird and Stewart, were very supportive.
"First and foremost, our owners, our franchise, I just felt incredibly proud when they first told us about this night," Bird said after the game. 
"Why shouldn't you have [Planned Parenthood]? Why shouldn't it be here? Why shouldn't it be an option for people to have and to go to?" Stewart added in the locker room. "You know, we're in 2017. This stuff should already be done. We shouldn't still be fighting for it. The fact that our organization, and players from this team, and coaches… joined arms with Planned Parenthood, I think it shows what type of organization we are."
The team has continued to lead the way in activism over the past few years, especially in the wubble, where the Storm were one of the most on-message and committed teams to uplifting stories of Black women killed by police, mobilizing fans to vote, and pushing for an end to racism. And none of this was a distraction. Instead, it was fuel.
So yes, there were many inspiring and emblematic scenes on Tuesday night in Bradenton. It was moving to see Kayla McBride show her toughness and talent on the biggest stage, after being so candid about her struggles with mental health during the pandemic. I was so glad the mothers of the WNBA were represented — both by the presence of the injured Sixth Woman of the Year, Aces forward Dearica Hamby, who gave birth to her daughter, wubble superstar Amaya, in 2017; and the absence of the Seattle Storm's Sami Whitcomb, who left the wubble before the WNBA Finals so she could be with her wife, Kate, when she gives birth to their first baby. And it was so fitting that this was such a breakthrough season and playoff run for Jewell Loyd, the Gold Mamba, who was one of Kobe Bryant's first WNBA mentees.
But I hope that the Storm owners inspired WNBA fans, too. Women's sports teams don't have to be controlled by horrific men who see them as an afterthought, or by power-hungry women who want to use them for personal political gain. We don't have to wait for white knights to save women's sports; die-hard women's sports fans can invest in them ourselves.

One final thing: Everyone needs to read what Alysha Clark said in her post-championship zoom press conference
Q. Can you compare and contrast this one with your first one, winning in 2018? How do they compare? How does it feel? Is it more special?

ALYSHA CLARK: This one is really special. This one is special just because of reason that we were here in the beginning. We wanted to bring awareness and give a voice to the Black women that are often forgotten in this country. We are often overlooked and often unheard, and this championship was for them, for us. As a league of women, of Black women, and the ladder of being different, we have women out here fighting for the voice of Black women in this country, and, so to be able to come out here tonight and win this; it's a championship for little Black girls and Black women across this country honestly.

I said it after the game when I was letting it all soak in. I hope each and every one of them feel just as victorious in this moment as I do. Because you should. We see you. We hear you. We acknowledge you and your life matters. And that was what this season was about.

Q. Could you expand on what this means beyond even just basketball. One of the things you guys, obviously the Say Her Name campaign, but also the get out the vote, do you feel like from the bubble you were able to send out a message that's going to reverberate into the next several months into next season and that it's not just something that ends when the season ends?

ALYSHA CLARK: 100 percent. When we decided to come down here to Bradenton, we knew the message that we wanted to put out, and we knew -- we knew the reason for this season.

You know, I'm going to continue to give Angel the credit, because it was her idea to get Breonna Taylor's name on the back of our jerseys to play this season. You know, so we had a bigger purpose this season coming out here, and so when our team collectively had the discussion about coming down here, we knew it was much bigger than us and we knew it was much bigger than tonight.

And so I really mean that when I say, I hope all the black women in this country and all the little black girls that dream to be something really special in this country, like I hope you feel victorious tonight because this season was dedicated to you. We came out here night-in and night-out, and competed on a physical level but also to bring awareness.

And so for us, to just be able to wear this name on the back of our jersey, Breonna Taylor, and have the zoom calls that we have with Ms. Tamika Palmer, you know, that's -- at the end of the day, like this championship is amazing, it really is, and I'm super grateful for it.

But the awareness and the message that we were able to get out, is even greater, and so yeah, we are less than a month away from elections. Deadlines to register to vote were today.

But we have a lot more work to continue, and Sue alluded to it, just us being the face and kind of using our social media platform and platforms that we have like this, even just speaking to raise awareness of the importance of voting and what comes after this, is going to be a continuous fight, and we are ready for it. We are built for it. That's what the women of this league are made of. We are built to fight. We are built to stand up for what is right in this world, and we are going to continue to do that, whether it's here winning championships or being in market and overseas in these next few months.

Wait, I lied, this is the only proper way to end this post

Thanks so much for supporting Power Plays, and making this work possible. I'm forever grateful.