Going first paid off for the NWSL and WNBA
#CoveringtheCoverage returns, and we're going to celebrate.
Hello, everyone! Welcome to Power Plays, a no-bullshit newsletter about sexism in sports, written by me, Lindsay Gibbs.
Today, we've got a #CoveringtheCoverage update, and believe it or not, you might not want to throw your computer and/or phone in frustration after reading this one!
But first, here are a few other newsletters I want to make sure you're following, including two brand new additions to the Substack fam:
The wonderful Bria Felicien has launched The Black Sportswoman, a newsletter that elevates the stories of Black women athletes in sports history. Her first issue is all about legendary center Lusia Harris, and you can subscribe here for free!

Also this week, Lyndsey D'Arcangelo launched her newsletter, Courtside Q&A, which will feature unfiltered Q&As with WNBA players of yesterday and today. The first edition is a chat with Chennedy Carter, need I say more? Subscribe for free here.

I know I've talked about my love for The Gist before, but seriously, it has become required reading for me. This twice-weekly inbox delight keeps me up-to-date with all the latest developments in men's and women's sports. Last week, it caught me up on all of the ins and outs of the NHL's return, and alerted me to LPGA player Christina Kim's epic, safety-first trip to Toledo for the LPGA Drive On Championship. It, too, is completely free, and you can subscribe here.
Okay, friends. That's all the recs for now, I better get you all back to Power Plays before I become yesterday's news! Let's do this.
---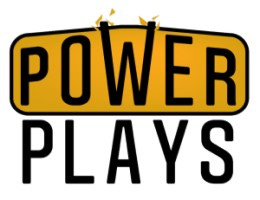 It's #CoveringtheCoverage time again, which means that once again, I must thank the marvelous Power Plays reader Tori Burstein, who puts in the tedious work of daily tracking to make this analysis possible. And friends, this tracking and analysis is making a real impact: Over the past few weeks, #CoveringtheCoverage and Power Plays has been cited in both The New Yorker and The Verge.
Last time we had a #CoveringtheCoverage update, it was terrible news, because during the month of May, mainstream media almost completely forgot that women's sports exist. Fun! But now that we've got about six weeks of women's sports under our belt, I thought we should check back in.
#CoveringtheCoverage returns
Do you remember back in March and April? You know, back when we were concerned that we might be in lockdown through Memorial Day, when one single case of coronavirus was enough to bring the entire sports industrial complex to its knees, and not an expected cost of doing business. Back when we were mourning the cancellation of the NCAA basketball tournaments, but telling ourselves it was worth it, because surely it would buy us time as a nation to get the pandemic under control and prevent tens of thousands of deaths?
Well, because it's my job to think about such things, I was hyper-focused on what the sports shutdown would mean for women's sports. I had an idea about one way to mitigate the devastation the pandemic could wreak on leagues like the WNBA and NWSL: "When sports start back, let the women go first."
My thought was that since women's leagues were mainly smaller than men's leagues, it would be quicker to get them back running, and even if women's sports could get just a few weeks where the entire focus of the sport world was focused on them, the influx of eyeballs and media coverage would surely have long-lasting benefits.
Well, in early July, I realized that more or less, that women's leagues had led the way back. It just didn't look anything like I had envisioned months earlier. That's because the pandemic wasn't just still present, it was raging, and it was crystal clear that our leaders weren't taking any steps to stop it. Plus, in the wake of the murder of George Floyd by Minneapolis police officers, sports were returning the nation was experiencing a reckoning over anti-Black racism and police brutality. As I wrote last month, these realities made the return of women's pro softball, the NWSL, and even the WNBA, less a celebratory affair, and more an exercise in anxiety management.
But, primarily thanks to the leadership of NWSL commissioner Lisa Baird and WNBA commissioner Cathy Engelbert, as well as strong players associations that put it all on the line for the safety of their constituents, these returns haven't been a catastrophe; in fact, both leagues are experiencing record ratings and popularity.
The NWSL began the Challenge Cup in Utah on June 27, 11 days before Major League Soccer (MLS) kicked off its own pandemic tournament, MLS is Back, in Florida.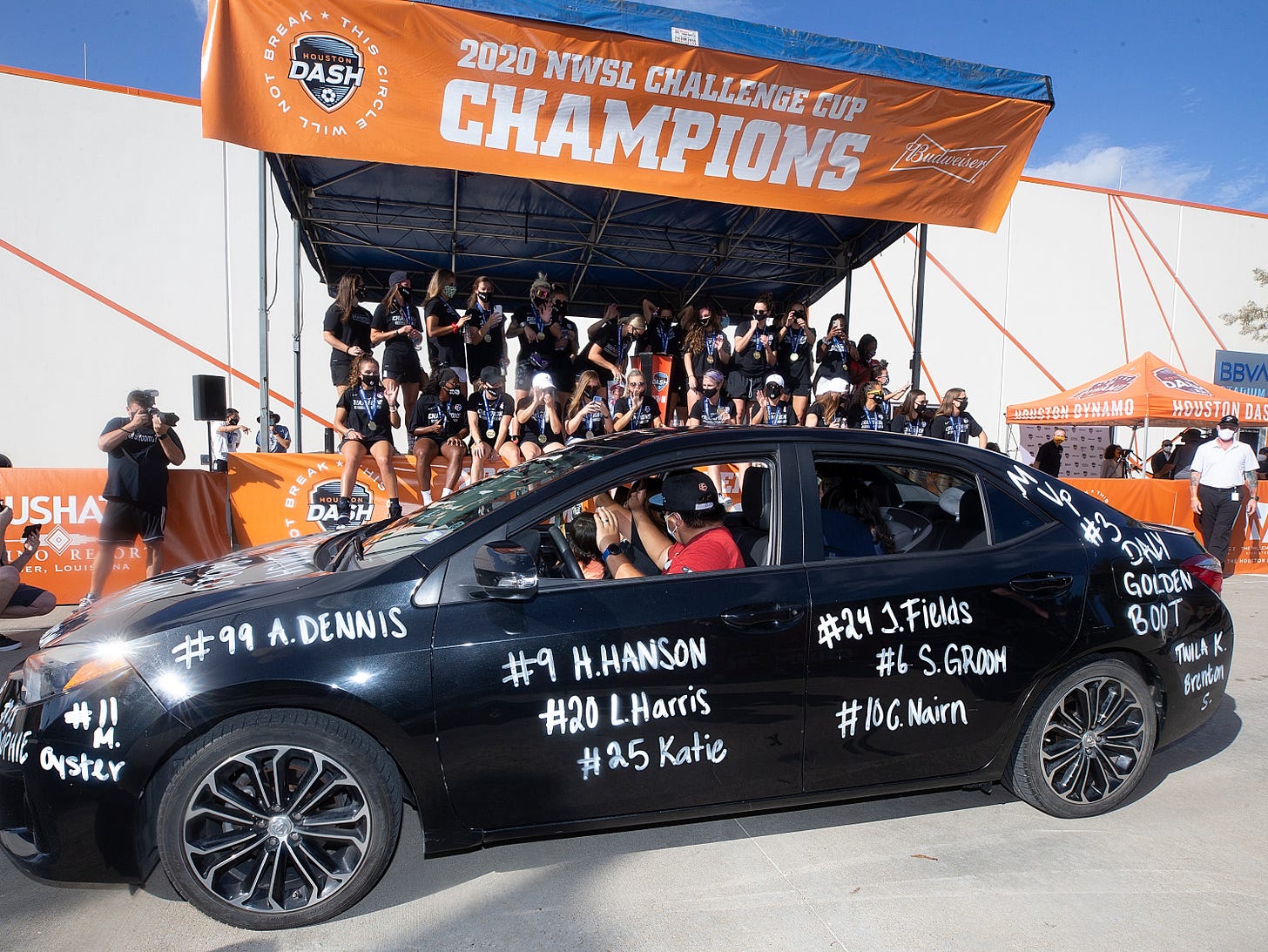 (PIC: A pandemic-appropriate celebration for the Houston Dash; via Getty)
CBS had the rights to the Challenge Cup, and put most games on CBS All Access, its streaming service. Two games made it to Big Deal CBS — the first game of the tournament, which averaged 572,000 viewers, and the final, which averaged 653,000. Both obliterated previous NWSL television records. And that wasn't all. During the tournament, membership for supporter groups grew, even without in-person games, the Twitch streams were popular with international audiences, and the league added sponsors and made expansion moves.
Meanwhile, the WNBA tipped off its 2020 season at the IMG Academy in Bradenton, Florida on July 25, five days before the NBA resumed its season at Disney World. While that's not a big headstart, it did mean that the WNBA did not have to compete with the NBA during its opening weekend. That solo spotlight mattered. An average of 540,000 viewers watched the season opener on ABC, up 20% over 2019, and an average of 419,000 viewers watched the opening game on ESPN. After those ratings, ESPN added 13 more WNBA games to its national television schedule; this year, at least 77 WNBA games will be aired on national television, including those broadcast on CBS, CBS Sports Network. NBA TV is also adding games to its schedule as the season goes on. That is real progress.
Now, I'm not saying that all of this success is because the leagues got back in action before their male counterparts, nor do I think any of these numbers are an indication that are job here is done, and women's sports are set for the future. And I certainly am still uncomfortable with sports being played while the covid outbreak continues to gain steam, and the general public is still struggling to get tested in a timely manner.
But I was afraid that when sports started back, the women would be forgotten. That hasn't happened, and it's worth taking a moment to savor that fact.
Local markets didn't forget about the Challenge Cup!
We're going to look at two sets of data today.
The first focuses on local coverage of the Challenge Cup throughout the tournament. In order to monitor this, Burstein and I went a different route, and picked a major newspaper in every team's home market, and two national papers (USA Today and New York Times), to monitor on a daily basis.
Instead of looking at print editions, Burstein instead just tallied up the number of stories posted on each paper's website on a daily basis, and categorized it by league. We took this approach for a couple of reasons — not every local paper published a daily edition, and, in the sake of full transparency, subscription costs to access to the print editions in all of these markets would have pushed me way over budget for the summer. (I'm working hard to grow Power Plays so that's not an issue anymore!)
While I did miss the print edition analysis, this data was still incredibly useful.
Here are my main takeaways:
Take a bow, Salt Lake Tribune. Not only did the local paper provide phenomenal coverage of the Utah Royals, it also provided in-depth coverage of the entire tournament. A total of 13.07% of all sports stories in the paper that month were about the NWSL.

You might be looking at these numbers, and particularly the 3.12% figure noting the overall coverage of the NWSL during that month, and wondering why I am being so positive. Well, that's because every single market provided some sort of coverage from local reporters, something that has not always been the case for women's sports, particularly in the NWSL. (Remember the Boston Herald, which didn't cover the Boston Breakers until the team folded?) So yes, I'm looking at this with rose-colored glasses, particularly since these games were not taking place within local markets, and so many newspaper staffs are stretched so thin due to the pandemic.

USA Today, the Star-Ledger, and the News & Observer have inexcusably low numbers, though. No cookies for you!

My optimism will disappear completely if this growth doesn't continue in local markets. How do we help that happen? Buy subscriptions to your local papers, click on every NWSL story they write, continue to reach out to writers and editors and let them know of NWSL stories they should be covering, and give them all the retweets and shares and comments and engagement when they oblige. It matters!
The weekend of the WNBA debut and NWSL final, the coverage was limited, but extremely high-quality
The other data set Burstein collected centers around the weekend of July 24-26. The WNBA debuted on July 25, with three games on Saturday and three games on Sunday, and the NWSL final Challenge Cup final was on July 26.
It truly was a magical weekend for women's sports fans. For the WNBA, both days had one game on ABC, one on ESPN, and one on CBS Sports Network. For the NWSL, the final was on CBS. It the type of coverage we have been fighting for!
Headed into that weekend, Burstein went back to the six papers we monitored in May: USA Today, Los Angeles Times, Dallas Morning News, Chicago Tribune, Washington Post, and New York Times. Just like in May, we looked at the daily print editions of each paper — beginning on Wednesday, July 22, the day of the NWSL semifinals, and finishing on Monday, July 27, the day after the NWSL final.

This time, we parsed out the NWSL stories, WNBA stories, and other women's sports stories, both in the sports pages as a whole and on the front page. Here's what we found:
Overall, women's sports only accounted for 10.5% of all sports coverage during this time, and 14% of front-page stories. The New York Times led the way with 21.28%, followed by USA Today at 16.67. The Washington Post actually had the lowest percentage, 6.5%, which is a rarity, as it usually is one of the best at covering women's sports.

Again, you might be asking, Lindsay, why aren't you screaming right now? These tallies are very low! And it's true, they are. Earlier this year, I set out a goal for women's sports stories to make up 33% of the sports coverage on every sports page and in every general sports highlights show. This is nowhere close.

However, when I was looking through each of these six papers, the quality of coverage — particularly of the WNBA and NWSL — stood out to me. There were photos and well-placed spreads. There were dives into the protests against police brutality the players were leading, and features on superstars like Breanna Stewart; but there were also profiles of under-the-radar players, team-by-team breakdowns, and analyses of game plans and rosters. The coverage did not feel like an afterthought; it felt substantial in every way. That truly felt like progress.

I want to particularly give a shout-out to the New York Times, whose WNBA preview section was one of the most extensive all around. I especially love that editor Shauntel Lowe hired freelance writers — including many Black women — who have been covering the WNBA for years, if not decades, and who know it inside and out, to pen the previews. More of that, please!
I ended up making collages of the women's sports coverage from each paper during that five-day span, because it made me happy.
Chicago Tribune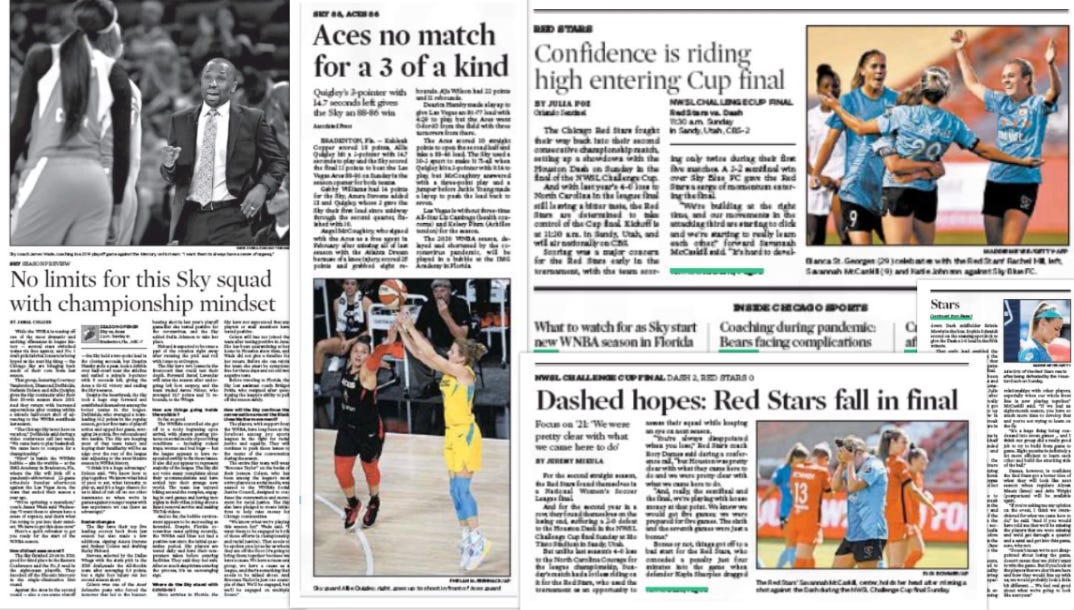 USA Today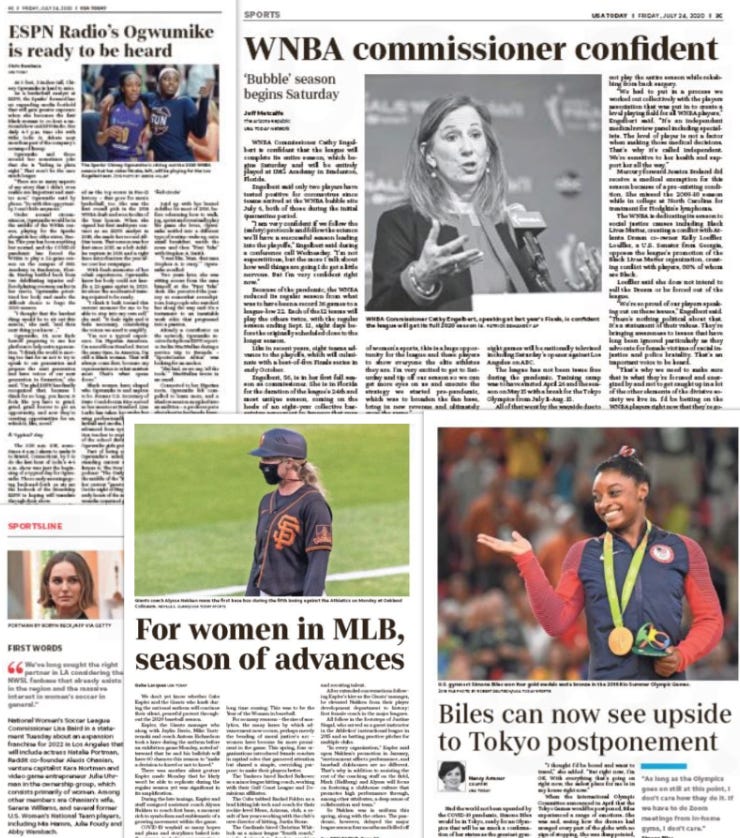 Dallas Morning News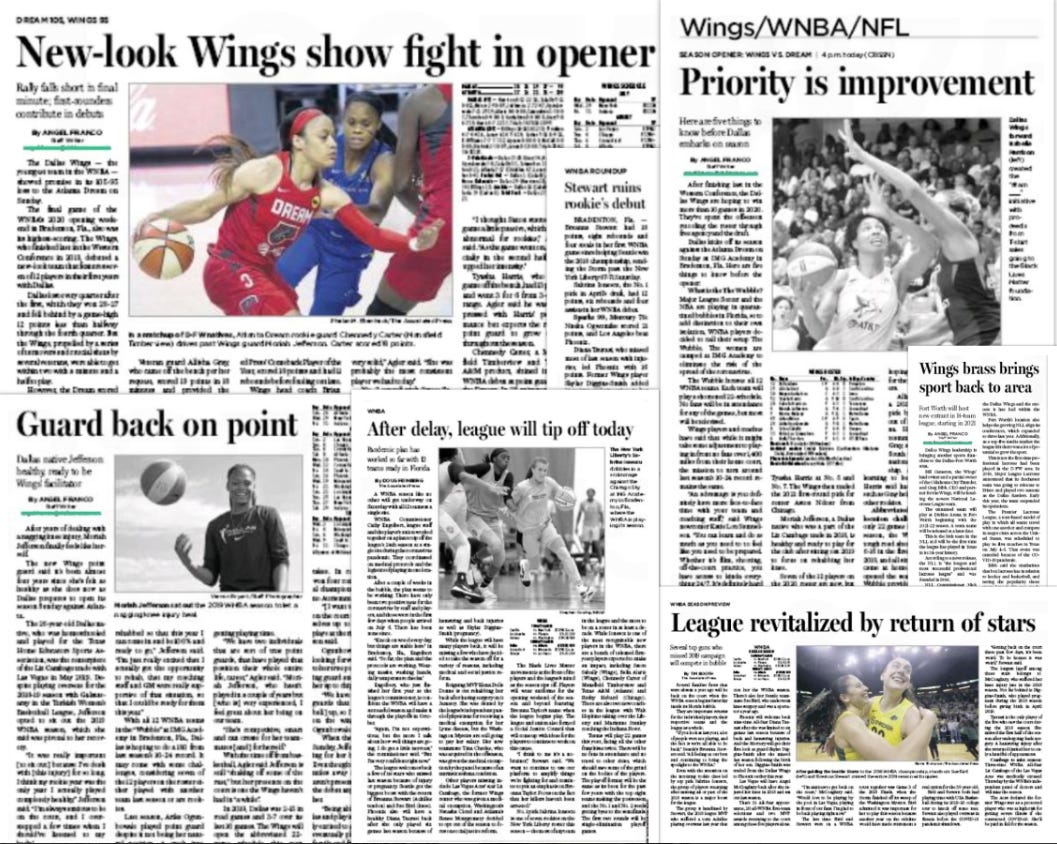 Los Angeles Times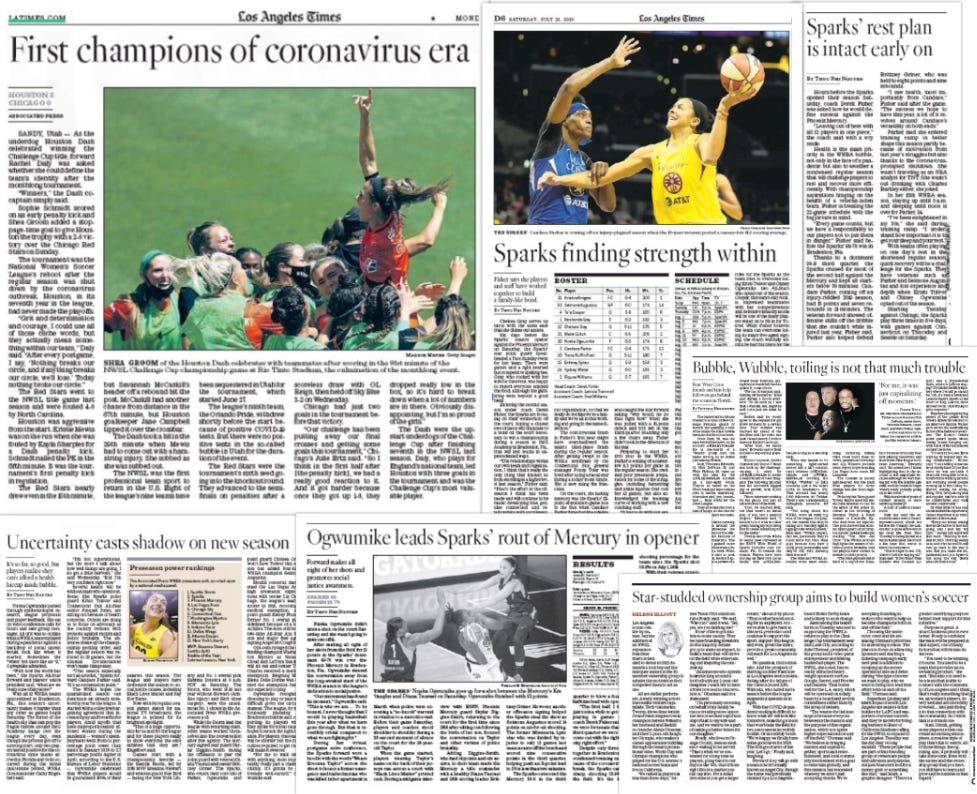 The Washington Post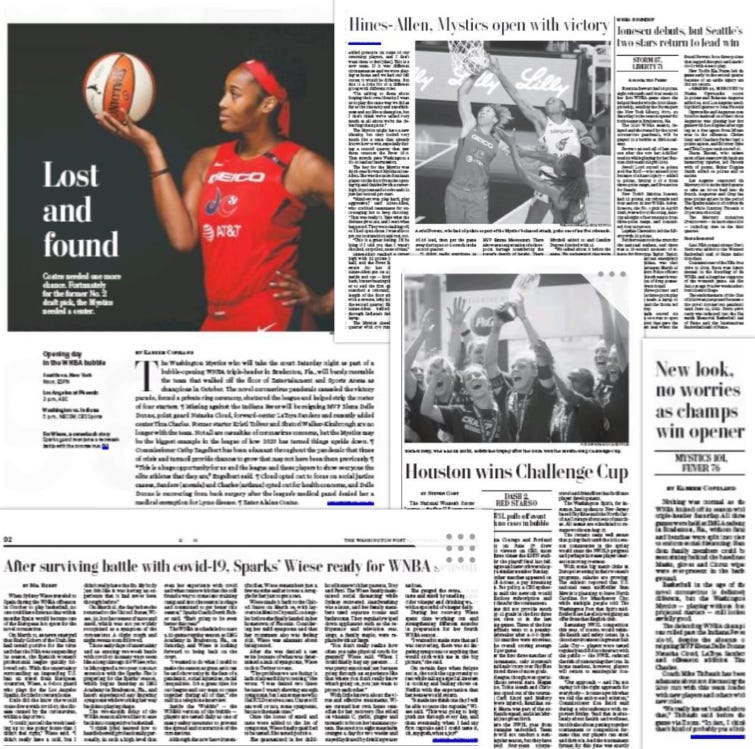 The New York Times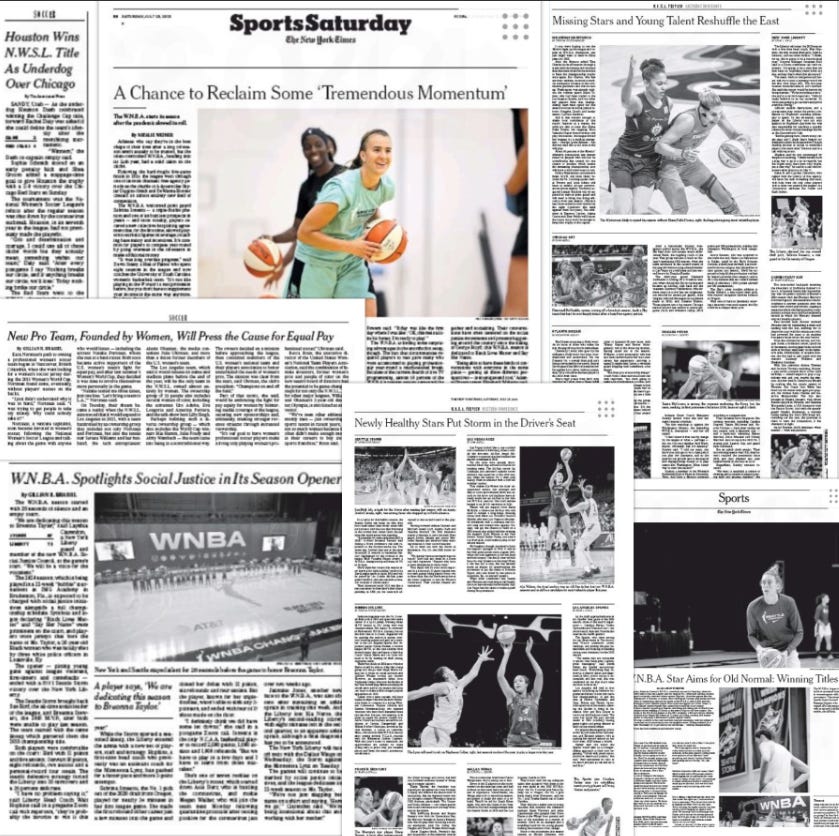 Parting celebrations
There are a couple of things from the past week that I know will stick with me long after the pandemic has passed us by. One is the excitement surrounding the orange WNBA hoodie, and the way it instantly became a cultural commodity on WNBA opening weekend thanks to some excellent promotional work.
The other is the support that the Houston Dash received after their improbably victory at the Challenge Cup. the Houston Chronicle wasn't one of the primary six papers that we monitored from July 22-27, but it deserves so much kudos for the A1 coverage it gave the Dash's title.
But that wasn't all. At an NBA press conference, Houston Rockets head coach Mike D'Antoni brought up, unprompted, the Dash's championship, and noted, without even a hint of patronization, that the Dash had set out a blueprint that the Rockets should follow.
Then, Houston held a socially-distant car parade to celebrate the Dash. It gave me goosebumps.
I don't want to underplay how far there is to go, and how imperative it is that we keep pushing the gatekeepers to keep growing coverage. I'm far from satisfied.
And yet, I've never felt quite like this before when discussing the media's coverage of women's sports. I think, perhaps, this feeling is called "hope?" This summer could have been a disastrous one for women's sports; and even just four years ago, I think it would have been. But thanks to the hard work of these phenomenal athletes, good decisions by savvy executives, extremely invested fans, media members who are fighting for more coverage for women's sports within their institutions on a day-in and day-out basis, and media members who are independently paving the way with proof that there is an audience, it's been a summer of progress instead.
Keep fighting, my friends. It is making a difference.

Thank you so much for reading Power Plays. There are many ways you can support this independent venture and keep it growing. You can share with your audience, sign up for the free list, purchase a paid subscription, or donate a subscription. Every bit helps.