The next step for Power Plays
Only paid subscribers will receive the other two newsletters this week.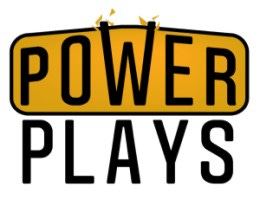 Hello, friends. Welcome to Power Plays, a newsletter for people who are sick of bullshit excuses, and ready to see equality for women in sports. I'm Lindsay Gibbs, the writer and founder of said newsletter.
It's been one week since I launched paid subscriptions. This Wednesday, the first paid subscribers-only newsletter will be sent out. The second one will come Friday. If you are not a paying subscriber, you will only receive one newsletter per week from here on out.
The good news? I have extended the Sue Bird Launch Special through Wednesday. If you subscribe now, you get 10% off Power Plays forever.
The past four months of working on this newsletter full-time have been phenomenal; but to keep this work going, I need your support.
Usually in this space, we examine how we reached the status quo for women in sports. Today, we're going meta. I'm going to explain how I reached this point with Power Plays, and tell you why you I hope you will choose to be a part of its future.
Okay friends, let's do this.
A little bit about me
Before I ask you all for money again, I want to be completely transparent: It makes no sense that I'm here, launching my own independent business via a newsletter where I report on women's sports.
First of all, I am not an athlete. My athletic career peaked when I was a top-10 backstroker in the city of Greensboro, North Carolina in the 9-10 age division. It's been downhill since.
Secondly, while I was always a huge sports fan, I mainly grew up watching men's sports. Yes, I loved tennis, so I'd watch the women during the major tournaments. Yes, I was glued to the Olympics, so I have early memories of the Tara Lipinski triumph and the Magnificent Seven. But mainly I was addicted to the Carolina Panthers and ACC men's basketball, and anything else I learned about while devouring SportsCenter waiting for highlights or news on those topics.
Thirdly, I didn't become a sports reporter until my mid 20s. I went to college at NYU film school, where I wrote and directed fictional movies that had nothing to do with sports. Journalism — let alone journalism about women's sports — was not even on my radar.
But, as we all know, life is full of surprises. My full career arc is impossible to summarize succinctly, but essentially, I began questioning my own biases towards women's sports when I was in film school, and studied how much the media's portrayal of women and minorities impacts our own worldview.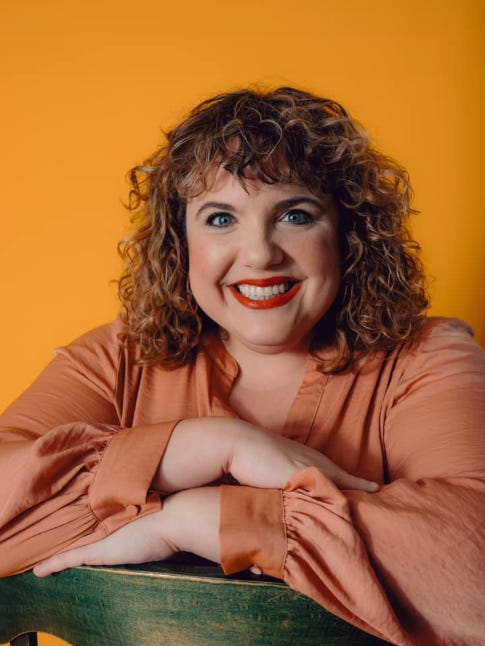 (This is a photo of me, Lindsay Gibbs, in case you did not know.)
When I began making a career as a freelance sports reporter — it turns out, 2008 was NOT a great time to graduate, especially with a film degree, so alternate plans had to be made up on the spot — I spent hours each day researching the history of women's pro sports leagues in the United States, many of which I had never heard about. I was excited to learn about these stories, and I was furious that despite my frequent sports media consumption, I hadn't heard of them before. So, as I researched, I started pitching pieces about women's sports to editors. I was lucky, because this was during a brief era in the mid-2010s when online media companies actually had money. Soon, writing about women in sports was a regular part of my reporting life.
But there's another reason why it's such a shock that Power Plays has reached this point: I am a scaredy cat. I have a lot of anxiety, about everything.
Six months ago, ThinkProgress, the progressive news outlet where I'd worked as a sports reporter for four years, shut down. I had no idea what was next. Substack presented me with the opportunity to launch my own newsletter pretty soon after the layoffs, but I brushed it off, and kept looking around for another full-time job where I could write about women in sports, even if only occasionally. I wanted something stable — or, you know, whatever counts as stable these days in the media industry.
I thought that I was avoiding going the newsletter route because of a fear of failure. That fear, that knot in the pit of my stomach, only grew bigger when I decided to take the risk and launch Power Plays. Over the past few months, as I have finished newsletter after newsletter, the knot has remained.
In the very first edition of Power Plays, I wrote, "Sometimes it seems that those in positions of power in the sports world aren't afraid of what would happen if women's sports fail; they're afraid of what would happen if women's sports are truly allows to flourish."
I was not consciously thinking of my own life when writing that line. But throughout paid launch week, I have kept returning to it, and wondering, what if this fear and anxiety over the past six months hasn't been rooted in a fear of failure? What if I'm afraid of what happens if Power Plays is a success? What if this newsletter takes off? What if this works?
The truth is, all change is scary. I'll always be fighting some form of self sabotage, I'm sure. But, thanks to you all, this is already working. In a world where only four percent of all sports coverage is about women's sports, Power Plays is making a difference. But to keep it going, to keep building it even bigger, I need you to become a paid subscriber if you have the means to do so.
So, today, I'm throwing that fear — whatever its rooted in — out the window. I am unabashedly going to brag about the work Power Plays has done over the past four months, the community it has built, the reviews it has received, and the crucial ways your paid subscription will help it grow.
*cues up the promo list*
1. You cannot get reporting like this anywhere else in sports media.
I know that many people won't read this whole newsletter, because they're rude, so I should highlight some of the top Power Plays posts up top. However, I've been so emotionally invested in every single issue that it's excruciating to chose. Still, here are five pieces that I hope will convince you that Power Plays is worth one fancy latte per month:
Of course, I can't stop there. At Power Plays, I love taking dives through the archives to learn about women's sports history. We've learned about the early days of the LPGA, the relationship and rivalry between Pat Summitt and Geno Auriemma, that time Billie Jean King founded a pro softball league, the long history of contract disputes between the USWNT and USSF, and the WTA's long road from $1 contracts to $4.4 million paydays.
We often focus on the investment gap in sports, and ways to bridge it, like Cricket Australia is doing right now.
We have tough conversations, and address topics that other media outlets are ignoring, like UCLA softball and other women's teams visiting the White House, Malcolm Gladwell's horrific treatment of Nassar and Sandusky survivors, and Atlanta Dream co-owner Kelly Loeffler being named a GOP Senator.
When Kobe and Gigi Bryant died unexpectedly, we sorted out our feelings as a group. When WNBA player Imani McGee-Stafford wanted to share how she was feeling about Kobe Bryant's legacy as a sexual assault survivor, black woman, and elite female basketball player, she wrote about it exclusively for Power Plays.
Power Plays highlights the work that women are doing behind the scenes to make the sports world a better place. I spoke with Alyse LaHue, general manager of Sky Blue FC in the NWSL, about how she turned around her franchise. When the world was reeling about Mary Cain sharing her harrowing story of emotional and physical abuse at the Nike Oregon Project, I interviewed the New York Times' Lindsay Crouse to get the story behind the story.
These stories need to be told. But if I was working anywhere else, I would have to spend my days fighting for the right to tell even one of these stories. At Power Plays, I get to save all my fight for the reporting.
2. Everyone is raving about Power Plays.
I'm going to pretend this isn't awkward, and share just a few of the many rave reviews I receive on a regular basis about Power Plays. Some are these are from industry colleagues, some are from people I don't know, none of them were solicited, all of them are from twitter, and you should take each and every one of them to heart!
One of my favorite reviews is from the great Josh Levin, the national editor at Slate, who called Power Plays simply "indispensable."
I know we talk about heavy subjects here, and that the newsletter can get long. But I *consistently* get feedback that Power Plays is very accessible and easy to read, which is always my goal. You do not have to be an expert on individual sports in order to get something valuable in every email.
And I must say, we do really well with the, "I don't usually read newsletters" crowd. So, if you don't usually read newsletters, maybe consider Power Plays the exception.
3. Influential people are already reading this newsletter, and Power Plays readers are already having influence.
Let's talk about the community for a second. I am not going to name names, because I don't want to put people on the spot, and also because I didn't think to ask permission, but Power Plays has subscribers from all across the media sphere. There are paid subscribers from CNN, ESPN, Sports Illustrated, The Athletic, NBC Sports, Fox Sports, CBS Sports, the New York Times, Wall Street Journal, Washington Post, NPR and I'm sure many others who don't use work emails to subscribe because they didn't think to expense the cost.
I call out the media a lot in this newsletter, and will continue to do so. But the promising thing is, there are good people within all of these institutions who want change to happen, too. These are the people who can make a difference from the inside. They are paying attention and want to be part of the solution.
There are WNBA players, coaches, and even owners on the subscribers list. NWSL executives, pro women's hockey players, USA rugby players, elite runners, Olympic hopefuls, NBA employees, administrators at top college athletic departments, and so many more influential players, on and off the field of play, are getting Power Plays into their inbox three times a week.
This work is being read by true stakeholders in this industry, on a regular basis. That is invaluable.
But honestly, I'm even more excited about all the fans who are reading this, and who have felt a call to action. Power Plays readers have been independently reaching out to media entities who aren't providing adequate coverage to women's sports, and many have gotten positive responses. This community is inspiring one another to be more active and intentional in how they support women in sports, and they're building bonds in the process.
My readers want to see the needle move, and are willing to work to make that happen. Power Plays has to keep going so that work can continue.
4. Power Plays is completely independent, which means it can both highlight the gaps in sports media, and do work to fill them.
In December, when I realized that female athletes were being left off of so many best-of-the-decade lists, I decided that Power Plays should make our own damn list. So, I asked you all for input, and you delivered, and I spent most of the Christmas break researching and agonizing and writing and creating a list of the Top 20 most important women's sports moments of the decade. (Here's part one, and part two.) I am proud that such a list exists solely because of us.
That same month, you all sent in recommendations, and we created the ultimate gift guide for women's sports fans. I have heard from so many of you that the gift guide influenced your holiday shopping list, introduced you to new books and organizations, and inspired you to find women's sporting events nearby that you could purchase tickets to and actually attend. That gift guide isn't just for the holiday season, people can access it year-round. And I don't want it to be the last.
Then, there's the watchdog aspect of having such an independent space. After the Mystics won the WNBA championship, I scoured DMV area to see if I could find any Mystics merchandise, and came up completely empty-handed. In order to more closely monitor the coverage of women's sports in the media, I launched the #CoveringtheCoverage campaign and the Quest for 33%, a project that strives to directly inspire more coverage of women's sports via accountability journalism.
These are long-term projects that need time, woman-power, and resources. Your subscriptions will ensure that they get it.
5. Power Plays is connecting trailblazers across women's sports, and across generations.
I want to share two tweets that best showcase the power that this platform has accumulated in such a short time.
First of all, here is Melanie Desrochers, a member of the Pro Women's Hockey Players Association (PWHPA), reading and sharing my newsletter about the WNBA's collective bargaining agreement. It matters that these phenomenal athletes learn from the hard work they are all doing doing, and borrow and build on successes across leagues. Some of that learning is happening right here at Power Plays, which is incredible.
And here's a tweet from the legendary Melissa Ludtke, that I just recently found, recommending Power Plays. In 1978, Ludtke sued Major League Baseball in order to get female reporters access to the locker rooms, so that we could do our jobs. She won.
The trailblazers that came before us are reading Power Plays, and staying up to date and engaged in the fights we have before us.
That? Well, friends. It's pretty special. We owe it to them to keep this going.
What your paid subscription will support
Paid subscribers will allow all of this work to continue. Your monthly or yearly donation will guarantee that this community we have built in the past four months, this momentum we have created together, doesn't fade away. Your dollars will force me to face that fear of flourishing, and use it as fuel.
To put it in practical terms, your subscription dollars will allow me to continue to do this work full-time — because trust me, those are the hours it requires — and to travel so I can cover events in-person, and interview the women and nonbinary people in the sports world that need to be heard from. I'm sure some think of a newsletter as a stay-at-home job. But I am determined to get in the field as much as humanly possible, which means as much as your subscriptions allow, so I can bring that value add directly back on you. Women's sports deserve in-person coverage, not couch observations.
And, there are big perks to being a paid subscriber, too. You can participate in the monthly Power Plays Book Club, have the ability to comment on newsletters and in threads to connect with other readers, and get weekly lists of what women's sporting events you should be watching, and how to watch them.
Please help support this work. And, if you're already a subscriber, spread the word.
I'll be back on Wednesday with a newsletter just for paid subscribers. I'm really excited about it, and I hope to see you there.
You can reach me: lindsay@powerplays.news.